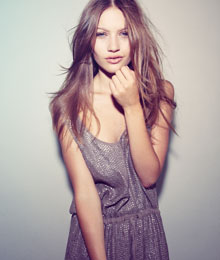 Let fashion take flight as you transform into an untamed icon.
Leatherheads
Emphasizing motocross elements with a two-tone wash that reveals just a hint of colour along the seams makes a leather jacket the pinnacle of urban cool. www.danier.com
Twinkle Star
Frolic up and down the city streets in a flashy sequined sheath. Dressing in some shimmer will not only spice up your spring wardrobe but demand attention while you sparkle under the summer sun. Read more
Blooming designers and flirty fashionistas all around town are turning to blushing hues and floral prints for spring 2010. If fashion characterizes the expression of mood and personal style, the floral print is certainly a direct statement of the season. Over the last year we have seen the greeting of the garden print trend make an entrance onto the fashion scene. As we carry over to this season, the trend is accelerating at full force with noteworthy designers who are excited to reinvent these playful prints in an array of flattering compositions.
Among the many competing brands are Soaked in Luxury and Anthropologie. Their collections teem with flirtatious lace, gorgeous prints, and stunning silhouettes. Accentuating feminine curves is on the agenda this spring, and the key to the season is the radiance of playful pieces. Read more