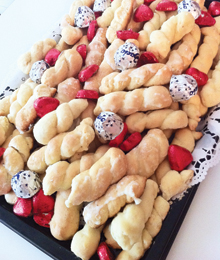 Good food and drink are necessities when creating an inviting atmosphere for any occasion. Bring warmth to your home, and delight your guests with the help of these new appetizing finds.
Hugs, Hearts and Cookies
Follow Strawberry Lane for all of your entertaining essentials, and choose from trays of sweets starting from only $29. Whether you're gathering for a festive event or just want to share a special treat with your family, Strawberry Lane will fill your home with the feel-good smell of freshly baked goods.
www.strawberrylane.ca
Express-o Yourself
The Breville® Barista Express Espresso Machine will turn your kitchen into an Italian café, making delicious Read more
After a taxing day at work, where can you enjoy great camaraderie with an indulging assortment of superior sweets and a steamy espresso? Enter Sweet Boutique, an upscale bakery that combines heavenly delights with European charm. Set in a radiantly modern atmosphere, the bakery takes you on a sweet escape with its
centuries-old recipes and owner Anthony Macri's impressive experience.
Studying in Italy with some of the world's best Italian pastry chefs, Macri applies the traditions of Italian baking and presentation he was taught with vigour. His remarkable creations are set in gold trays and wrapped in fine paper – just as they do in Italian pasticcerie. "It is an indulgence from the get-go, beginning with our packaging, right down to the presentation of the product within it," says Macri. Read more