Edible Arrangements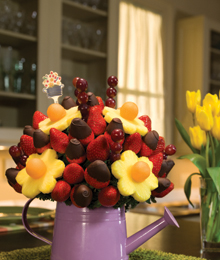 When you hear a knock on your door, a rainbow of fruit is the last thing you're expecting. A dozen roses may be nice. But what about something you can enjoy with friends and family, that is as delicious as it is eye-catching? Having an Edible Arrangements delivered to your doorstep is bound to put a smile on your face.
Whether it's for a birthday, anniversary or engagement, a bouquet of colourful fruit is the perfect gift. "It's always being sent to someone with the intention that they can share with the people around them," says Tiziana Cannella, storeowner of the Vaughan location. "People are always excited to receive it." In addition to the obvious health factor that makes a gift like this so appealing, Cannella stresses that unlike most deliveries, Edible Arrangements is something that can be enjoyed with your loved ones.
Using pineapple, honeydew, cantaloupe, strawberries and grapes, Edible Arrangements offers  baskets and bouquets with the freshest products. "My produce centre goes to the food terminal every single day," says Cannella. Choosing only the best ingredients, the arrangements taste as good as they look.
Innovation is the norm for this blossoming company. Now with over 1,000 stores worldwide, the Edible Arrangements brand is continuing to reinvent and entice with creative new products. Themed arrangements personalize each delivery and add special flair. Birthday baskets are available, as well as an entire children's line of cartoon characters, and season-appropriate arrangements.
"Based on the fact that it's a franchise, we have that support behind us," says Cannella. Staying true to what Edible Arrangements stands for, the Vaughan location ensures a quality safe product each and every time. With recyclable foam, plastic as opposed to wood skewers, and food-safe paint, every basket is made with attention and care. Cannella says of her staff: "They take that extra measure to make sure that everything that they produce is something that they can be proud."
www.ediblearrangements.ca