Canada is known around the world for having some of the nicest people. However, we too can forget to be kind, bogged down by busy schedules and stressful situations. Now there's a group of Canadians embarking on a social movement – all as a reminder to be friendly.
Who are they you ask? They are you and me, and it's as easy as flashing a smile to a stranger before you're hooked on paying it forward with positive deeds. People for Good, an organization diligently thinking up pain-free ways of making someone's day, is getting fellow Canadians rallied up about creating opportunity to do some good.
Be prepared to witness them pick up paper towels off the floor of public restrooms and offer their seat on the subway. Pass them on the street and they'll wish you a good afternoon Read more
Contagious Attitude
He's best known for his cheeky role on America's Next Top Model, but most recently he has turned the tables for his own chance to take on the catwalk. Jay Manuel debuted his premier collection as creative designer for Sears' private label Attitude Jay Manuel. He had a dose of his own medicine, and it tasted nice. Attitude rocked the runways, showcasing versatile and tailored wardrobe basics with a hint of Manuel's own attention-grabbing approach. Read more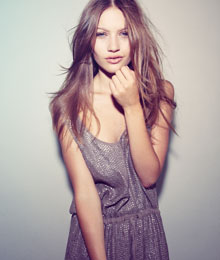 Let fashion take flight as you transform into an untamed icon.
Leatherheads
Emphasizing motocross elements with a two-tone wash that reveals just a hint of colour along the seams makes a leather jacket the pinnacle of urban cool. www.danier.com
Twinkle Star
Frolic up and down the city streets in a flashy sequined sheath. Dressing in some shimmer will not only spice up your spring wardrobe but demand attention while you sparkle under the summer sun. Read more
Give your green thumb a workout with these gardening must-haves.
1 Zensations
With vibrant colours complementing the hues of spring blossoms, these traditional Buddha heads fuse Zen with a hint of modern design into your space. www.homesense.ca
2 Home Made
Carmine strawberries and leafy green asparagus by Harvest Collection will up the ante when harvesting season favourites. www.homedepot.ca
3 Green Bay
Stripe your grass as you mow with a system that can be easily attached to your walk-behind mower. The end-result is a Read more
When three men are throwing back beers in downtown Toronto, you might not expect to hear them discussing ways to enhance Canada's Special Olympics. If you walked past the Etherington brothers as they gathered at Bier Market in the fall of 2001, you probably wouldn't have believed your ears – because that is exactly what they deliberated over drinks that evening.
Shortly thereafter, Mark, Sean and Paul Etherington breathed life into a non-profit organization benefitting Special Olympics Canada. Motionball, designed to integrate supporters and the athletes they support in a social setting, was founded in hopes of getting the ball rolling with the next generation of philanthropists.
This year's Motionball Toronto gala, named Decadence, celebrated a decade of advocacy and raised $250,000 for Read more