Photo 1: Klaxon Howl's Queen Street West shop has managed to achieve commercial success while maintaining its Canadian roots with vintage and military menswear pieces. www.klaxonhowl.com
Photo 2: Inspired by New York City's club culture, Sid Neigum shows a dark, avant-garde collection this SS12 season. www.sidneigum.com
Photo 3: Proving that home décor and haute couture go hand-in-hand, Korhani shows off a Canadian Made Innovation SS12 indoor rug in Rabbit print. www.korhani.com
Photo 4: Korhani continues to sweep us off our feet with its innovative rug runway fashion show. Model is wearing Korhani's SS12 reversible outdoor patio rug in China Flower print. Read more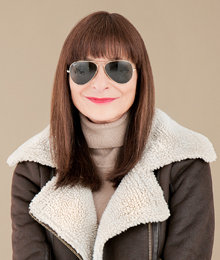 Whether we're looking at the fashion world through our televisions, computer screens or up-close-and-personal at LG Fashion Week, we often feel like we're universes away. Jeanne Beker, fashion journalist and television personality, has made the fashion realm more relatable, more understandable, and definitely more enjoyable. "The lifestyle that I lead may look enigmatic," says Beker, "but I'm always stressing how there are so many situations in my life that really have nothing to do with the high life."
Her down-to-earth persona is flawlessly translated into her very own clothing line – EDIT by Jeanne Beker.  A working mom herself, Beker understands the need for clothes that "aren't really that fussy, but still make a style statement." Her collection features clothing staples that can be mixed and matched, including her Jeanne Jeans, that now come in three different cuts and colours – deep plum Read more
Contagious Attitude
He's best known for his cheeky role on America's Next Top Model, but most recently he has turned the tables for his own chance to take on the catwalk. Jay Manuel debuted his premier collection as creative designer for Sears' private label Attitude Jay Manuel. He had a dose of his own medicine, and it tasted nice. Attitude rocked the runways, showcasing versatile and tailored wardrobe basics with a hint of Manuel's own attention-grabbing approach. Read more
Toronto was buzzing with designers, journalists and fashionistas for LG Fashion Week in October. Several prominent designers included Rachel Mara, Brandon R. Dwyer and Evan Biddell. CitylifeTV.ca host Madeline Stephenson scooped several of the top designers at the prestigious event.
One of those talented designers is Canada's own Wesley Badanjak. Using his alchemic abilities, Badanjak melds classic essentials of women's wear with the natural colour of the elements, producing his stunning 2011 spring/summer line, Elemental. "I was trying to take basic elements of the wardrobe and modernize them and infusing them with this theme and this colour story," comments Badanjak.
Also making a splash is Vancouver native and world-renowned designer Angela Chen. Inspired by the film Read more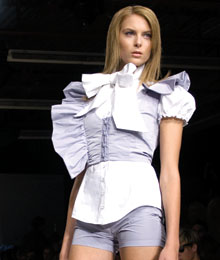 Some of the fashion industry's top designers flocked to Toronto for LG Fashion Week last fall to showcase their Spring 2010 collections. Among them was Project Runway Canada's season two finalist Jason Meyers, who wowed a fashion-infatuated audience with fresh colours and cutting-edge designs. "I really try to design with the aspects of timeless and edgy," says the Hamilton born designer, who had his own tailor as a teenager.