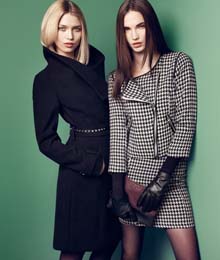 Whether you're standing under the mistletoe or the office glow, these outfits will ensure you're always in the spotlight. One of the perks to imperfect weather is the plush, patterned fashion that tends to trend this time of the year. Add a little spice to your wardrobe with these haute holiday pieces.
1. Zippers, studs and houndstooth coats make the coldest winter months worth it.
www.soakedinluxury.com
2. This beaded miniskirt gives Tinseltown new meaning. An unexpected biker jacket kicks this look into full gear.
www.zara.com
3. Shake up the classic holiday ensemble by sporting a sequined, embroidered cardigan over an oriental print chiffon blouse. Slip into seamed jeans and go get your jollies.
www.zara.com
Read more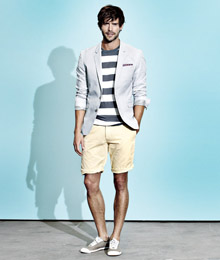 Dress Up
Your little man in a plaid bow tie that's fun for him and classy for you.
www.etsy.com
Heeling Power
You can accomplish anything in these hot pink heels. Pair them with orange or blue for a colour block effect, or with a neutral outfit for a pop of colour.
www.zara.com
Brace Yourself
This sterling silver Scott Kay bracelet is not for the faint-hearted. Show off your wild side with this eye-catching accessory.
www.cupidodesigns.com
Read more
Blooming designers and flirty fashionistas all around town are turning to blushing hues and floral prints for spring 2010. If fashion characterizes the expression of mood and personal style, the floral print is certainly a direct statement of the season. Over the last year we have seen the greeting of the garden print trend make an entrance onto the fashion scene. As we carry over to this season, the trend is accelerating at full force with noteworthy designers who are excited to reinvent these playful prints in an array of flattering compositions.
Among the many competing brands are Soaked in Luxury and Anthropologie. Their collections teem with flirtatious lace, gorgeous prints, and stunning silhouettes. Accentuating feminine curves is on the agenda this spring, and the key to the season is the radiance of playful pieces. Read more