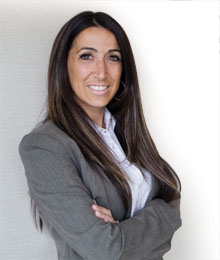 1. If I have mortgage default insurance do I also need mortgage life insurance?
Yes. Mortgage life insurance is a life insurance policy on a homeowner, which will allow your family or dependants to pay off the mortgage on the home should something tragic happen to you. Mortgage default insurance is something lenders require you to purchase to cover their own assets if you have less than a 20 per cent down payment. Mortgage life insurance is meant to protect the family of a homeowner and not the mortgage lender.
2. What steps can I take to maximize my mortgage payments and own my home sooner?
There are many ways to pay down your mortgage sooner that could save you thousands of dollars in interest payments throughout the term of your mortgage. Most mortgage products, for instance, include prepayment privileges that enable you to pay up to 20 per cent of the principal (the true value of your mortgage minus the interest payments) per calendar year. This will also help reduce your amortization period (the length of your mortgage). Another way to reduce the time it takes to pay off your mortgage involves changing the way you make your payments by opting for accelerated biweekly mortgage payments, which will not only help you pay off your mortgage more quickly but will also save you a significant amount of money over the term of your mortgage. Visit me to find out which strategy suits your specific needs.

Read more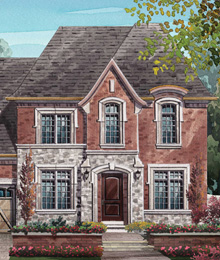 1. Kleinburg Crown Estates
Nestled in the culture-rich town of Kleinburg, these luxury estate homes complement their spacious properties and grandiose floor plans with comfort and warmth. Tailored to perfection by five master builders, explore all that Kleinburg Crown Estates has to offer.
www.kleinburgcrown.com
2. Bridle Path of Thornhill
Thornhill's luxe Bridle Path development will not disappoint. Surrounded by a lush natural forest, these lavish homes will provide the perfect setting for the distinguished buyer. www.foresthillhomes.ca/bridlepath Read more
Over the past three years, housing prices have appreciated in the vast majority of regions across the country. This solid growth has generated a general worldwide consensus that Canada's real estate market is safe and sound.
Toronto's market fared notably well during this period. When compared to August 2011, selling prices for August 2012 increased nearly 6.5 per cent to an average of $479,095 per home. This substantial growth was propelled by the city's low-rise home segment, which includes a 15 per cent price increase in single-detached homes.
Overall, sales may have been down this year in the GTA, but new listings were as well. Accordingly, market conditions held firm due to Read more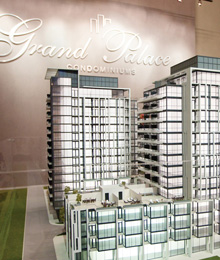 On Sept. 24, 2012, a groundbreaking ceremony marked the beginning of construction for a brand new Guizzetti development. The much-anticipated Grand Palace Condominiums is underway, bringing excitement to future residents in the heart of Richmond Hill. The three 15-storey buildings will include over 500 units and many luxury amenities, welcoming tenants in the summer of 2014.
Read more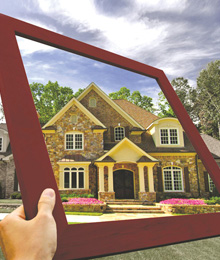 Maximum Amortization Period Maximum amortization has been reduced from 30 years to 25 years
What does this mean? It's the third time amortizations have been slashed in just four years. Canadians saw a decrease from 40 to 35 years in 2008. Then, in January 2011, they were reduced again, down to 30 years max. Finally, we are back at 25 years as it was in 2003.
A lower amortization period will mean a slight increase in monthly payments; however, a substantial decrease in the amount of interest paid over the life of the mortgage. Keep in mind that the increased challenge of affordability will only be felt by those who are looking for a 30-year amortization who have less than a 20 per cent down payment. Conventional mortgages will still be offered on a Read more
Q: The media has been talking about the condo market bubble bursting. What are your thoughts?
A: Supply and demand is always a significant factor. Until supply and demand level off to a healthy medium, we will see an adjustment in the market. This is the best time to buy! Buyers have more selection and should be taking advantage of this. In addition, if you compare the value of the GTA market and Toronto with other world-known cities, you will find that we are still underpriced. This keeps the momentum of our market moving in a positive direction. Despite seasonal highs and lows, we still end up with positive results. Let's not forget that condos are an amazing housing option, one that appeals to first-time buyers, downsizers, retirees, investors, families, and people of every demographic. Read more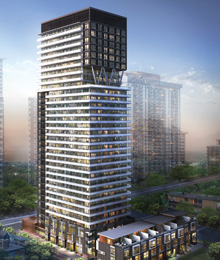 CANARY DISTRICT Even in its initial phase, the beauty of Canary District Condominiums and Townhomes is transparent. With a glass, steel and grey limestone shell, this residential waterfront condominium community at the cornerstone of Front and Cherry Streets is slated to be the official athletes' village for the 2015 Pan Am Games.
www.dundeekilmercondos.com
101 ERSKINE With a strong standing for sustainable building, Tridel and Beaux Properties' 101 Erskine — now selling and located in the burgeoning Yonge Street and Eglinton Avenue neighbourhood — is designed for green-inclined condo dwellers. Among its beyond-textbook amenities is a sixth floor outdoor terrace that features a bright blue infinity swimming pool and fireplace lounge. www.tridel.com Read more
Tao Condos
Feng shui master Paul Ng creates a balanced and harmonious space in this seven-floor building. The Richmond Hill sanctuary is complete with a yoga studio and airy design, lifting stress away from residents every time they walk in. www.signaturecommunities.ca
King Oaks
A luxury home in a humble community is the ideal place for a family. King Oaks estates are spacious four-to-five bedroom homes conveniently surrounded by public and private schools, recreational parks and the Go train station. www.aspenridgehomes.com
Vaughan Valley
Located west of Weston Road in Woodbridge, Vaughan Valley consists of townhomes and detached estates from 2,000 to 5,000 Read more
From the heart of the city to the soul of Vaughan, these luxurious developments are sure to make your pulse beat faster.
1. Parkside at Atria
Tridel and Dorsay Development Corporation introduces its newest masterpiece to the condominium market: Parkside at Atria. Adjacent from the prestigious Alto at Atria, Parkside at Atria is a combination of modern architecture and unique beauty, sharing a private courtyard while remaining steps away from the community.
www.tridel.com
2. Expo City
All roads lead to Vaughan's Metropolitan Centre, where an iconic 37-story development deemed Expo City lies in the heart of a community. In an area surrounded by luxury stores, Read more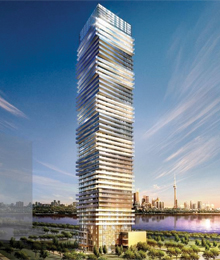 1. Lago
Next to the Etobicoke shoreline, the 49-storey waterfront high-rise provides luxurious features, such as marble flooring, walk-in closets and spacious balconies. www.monarchgroup.net
2. Minto WaterGarden
Inspired by the tranquility of nature, the Minto WaterGarden's six-storey building wraps around a serene garden, creating an inspired esthetic. Located in Old Thornhill, residents enjoy contemporary one-and two-bedroom suites. www.minto.com
3. Beach club lofts
Embracing an open, modern concept, Beach Club Lofts put residences within walking distance of Toronto's historic The Beach community. Ceiling-to-floor windows afford a spectacular Read more