Giuseppe Agrippa takes the scenic route with his wide-ranging landscaping firm
The city's lush, sprawling backyards have become a hotbed for seasoned landscapers, but one green-thumbed entrepreneur has risen above the rest. "The fact that we're able to transform nothing into something that people can enjoy for years is an incredible feeling," says Giuseppe Agrippa, president of Vaughan Landscaping. Agrippa, who founded his company 11 years ago at the age of 20, has cultivated his craft into an all-encompassing, award-winning firm focused on quality, customization and client care.
"Word of mouth has played a big part in our success," says Agrippa, who caters to homeowners across the GTA and recently transformed a Forest Hill backyard into a breathtaking retreat. "I'm there from start to finish to ensure the level of quality is something I can be proud of. You're only as good as the people who work for you so I have a skilled team behind me."
From patios, pergolas, stonework and gazebos, to lighting, irrigation, water features and pool construction, Vaughan Landscaping and Agrippa's subsidiary company, Vaughan Pools, can turn any outdoor space into an intimate oasis.
From winter blues to hot new hues, Amado Salon has the latest tools to revitalize your tresses — just in time for spring. "This season is all about renewal," says creative director Robert Amado, a veteran in the industry with close to 15 years of experience.
Since opening Amado Salon four years ago, the colour expert has become a fixture in Kleinburg's hair scene, receiving praise from clients that keep going back to the award-winning salon. And it's easy to see why.
The full-service parlour boasts a bevy of personalized options, from colour and highlights, precision-cut styles and glossy treatments for an everyday look or any special occasion. Keratin and shea butter hair therapy and organic hair care products will restore your hair's lustrous glow, as a spectrum of professional hair dye replenishes and enriches. Complementing every type of lifestyle with eco-friendly, ammonia-free colours from Nectaya or Elumen's creative colours, Amado Salon holds the key to gorgeous hair. "If there's ever a time to get a fresh new look," says Amado, "it's now."
Read more
Casinos: the flashing-light fantasy of cascading quarters, the thrill of chance dancing around a wheel, the ecstasy of hauling in newly won chips; the hunched backs of slot machine junkies, the dejection of "22, player busts," the empty wallets of the down-on-their-luck. Two sides of the same coin, but it's the former that gambling pushers wish to sell. Especially when Toronto is being courted for Ontario's next casino.
Indeed, gambling is a sizable cash cow for governments. The seedy underbelly is ideally avoided, hence the euphemism "gaming." But Ontario is cash-strapped, drowning in a nearly $12-billion deficit of red ink. Gambling has become a lifejacket and addiction, a means of income — of escape — too substantial for the province to wean off of it. The Ontario Lottery and Gaming Corporation (OLG) and Las Vegas powerhouses alike are attempting to woo Toronto. The prize: the potential gambling dollars Canada's biggest metropolis could generate.
In the past few months, Toronto has entertained propositions for an "urban integrated casino" at the Metro Toronto Convention Centre (MTCC) from Caesars Entertainment; a similar pitch for the MTCC by The Las Vegas Sands Corp.; and, more recently, a three-million-square-foot "integrated resort" at Exhibition Place by MGM Resorts International. The MGM pitch, for example, dangled an investment of $3 billion to $4 billion, a 1,200-room hotel, 10 restaurants, 750,000 to one million square feet of retail, 12,000 underground parking spaces, a permanent home for Cirque du Soleil and permanentemployment for upwards of 10,000 and more than 5,000 construction jobs during the proposed three-year construction period. These job prospects have been a pillar for casino advocates, which include Toronto mayor Rob Ford. Jobs, of course,mean revenue.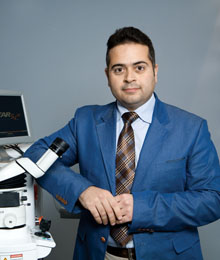 There's more to Dr. Mark Fava than meets the eye. Educated in prestigious universities across Canada and taking the road less travelled to the U.S. to further pursue his passion for eye health, the born-and-raised Vaughan native is now a leading authority in ophthalmology. And where better to cultivate his homegrown skills than the place where he first envisioned a future in medicine. "My roots are here," explains Dr. Fava, who recently left Boston to debut an innovative, full-service practice in Vaughan. "Eyes Above Toronto represents my homecoming."
Introducing a new generation of eye care to the city, Eyes Above Toronto fuses a patient-driven approach with state-of-the-art procedures. Fitted with the most advanced diagnostic equipment and medical technologies to treat the tertiary stage of eye disease, the clinic welcomes patients with friendly staff members and a warm, comforting environment. Among its star technologies is the iLASIK platform, a revolutionary bladeless procedure in laser vision correction that reshapes the cornea to correct your vision. Safe and painless, the sophisticated procedure is also efficient, requiring about 10 minutes per eye and one weekend of recovery time. "We're giving patients not just the freedom from glasses, but the ability to see the world," says Dr. Fava, who coedited Cornea and Refractive Atlas of Clinical Wisdom (2011), a medical book that shares invaluable clinical experience from authoritative voices in cornea and refractive surgery. "It's quite an amazing experience to wake up in the morning and not scramble to find your glasses because you can now see."
Read more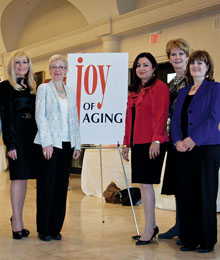 With over 350 attendees, The Joy of Aging 2012 raised funds for Mackenzie Health Foundation. Tina Tehranchian and Janine Purves were the co-chairs. Erin Davis was the master of ceremonies and Rona Maynard was the keynote speaker.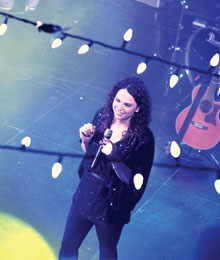 Elizabeth Grant Skin Care presented THE BIG GIVE on Nov. 7, 2012, at Toronto's Berkeley Church. Hosting 650 young professionals and raising close to $30,000, the event supported Canadian cancer charity Look Good Feel Better. Delicious food and beverages were provided by Frozen Assets, Elle Cuisine, Qualifirst Foods, Cupcake Culture, Three Olives Vodka, Corona and Rosehall Run Vineyards as The Little Black Dress, The Apollo Effect, Black Mink and DJ Jody Litvack entertained guests.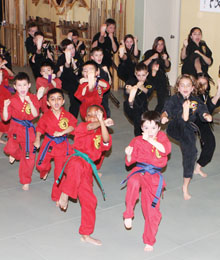 Northern Karate Schools (NKS) celebrated its 40th anniversary with students, supporters and staff who are all a part of a four-decade success story on Nov. 24, 2012. With 10 locations across the GTA, including Maple, Richmond Hill, Woodbridge and Thornhill, NKS has sharpened the body, mind and spirits of people of all ages. "A lot of places change for the sake of change. While we continue to adapt and expand our curriculum, we've always stayed true to our founding principles," says NKS Rutherford director Kyoshi Cos Vona. "I think that's the main reason we've had staying power."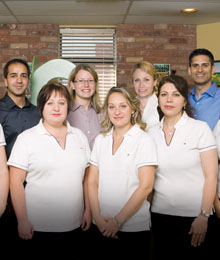 Dental Works 4 Kids is creating an exciting buzz in the Vaughan community. With the introduction of orthodontists Dr. Ajeet Ghumman and Dr. Sunny Dhingra, the office has become one of the first pediatric and orthodontic dental clinics in Ontario. Longtime friends who met early in their dental careers, they had always envisioned a place where patients could be cared for by a team of specialists as opposed to the traditional single-specialist clinic. Their vision for this type of successful practice has now become reality. "What first drew us to this profession is working with kids," says Dr. Ghumman. "It's a rewarding experience. We're helping create beautiful smiles, we're helping their whole outlook on life and their self-esteem."
Working with pediatric dentists Dr. Jill Oxner and Dr. Karen Stallaert, the specialists have taken a unique approach to preventative care to Read more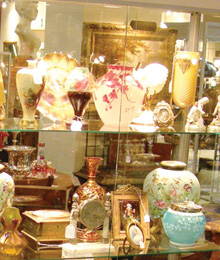 In its third year, the Premier Antique Show at the Metro Toronto Convention Centre continues to blow vintage lovers away. Antique dealers from across Ontario and Quebec are coming together on October 26, 27 and 28 to feature decorative arts, furniture, porcelains, clocks, pottery, fine jewelry and more. Read more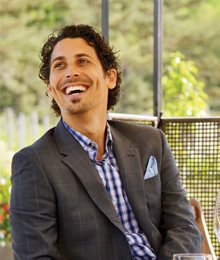 My passion for food began at an early age. Whenever I was allowed in the kitchen, I would help prepare family meals. My traditional Italian family continuously instilled an old-world culinary philosophy of simple, ingredient-driven food. Fresh pasta with seasonal vegetables from the garden tossed in a Tuscan olive oil was the start of many nights shared around our kitchen table. My culinary education took me across Europe and North America, and in 2006, I came home to Hockley Valley Resort.
We have worked very hard over the past five years to turn Hockley Valley into a top Ontario culinary destination. One of the biggest changes was the installation of our on-site, four-acre organic fruit and vegetable garden.
Investing in the garden has been such a worthwhile feat on so many Read more