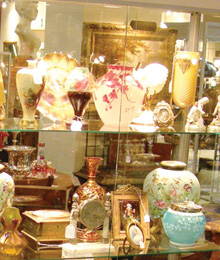 In its third year, the Premier Antique Show at the Metro Toronto Convention Centre continues to blow vintage lovers away. Antique dealers from across Ontario and Quebec are coming together on October 26, 27 and 28 to feature decorative arts, furniture, porcelains, clocks, pottery, fine jewelry and more. Read more
Modern Vintage Style
Published by Ryland Peters & Small, Modern Vintage Style paints a charming picture of the captivating world of antiques. From textiles and lighting to furniture and inspiration, Emily Chalmers offers homeowners a  faithful blueprint on how to blend the old with the new. The result is a cohesive composition of Modern Vintage Style. www.rylandpeters.com
Edgar Navarro
American eco-wood raindrops fall from the sky, turning any space into an earthy escape. Edgar Navarro's clever creations can esthetically transform any room while it functions as a bottle cellar, magazine rack or anything else that captures your imagination. The Lluvia design concept comes in a variety of configurations like flowers and pyramids, and can even be used as Read more
We scoured the city to shine light on all things enjoyable.
Cheese Boutique If you have a soft spot for cheese, you'll find yourself in fromage heaven here. www.cheeseboutique.com
Feel like you've travelled through time as you walk through the doors of this vintage styled barbershop. Blood & Bandages Barber Shop 416.357.9178
Take a walk through Twist Art Gallery and Café on Queen Street West and get a glimpse of beauty and imagination. www.twistgallery.ca
Producing the highest standards of quality foam products for bedding, furniture, automotive and more, Foamite also provides Read more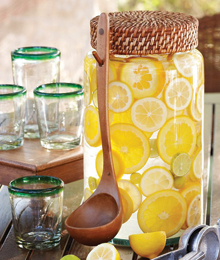 Enjoy the finest in food, décor and entertainment this summer with these items that will help to set the mood.
1. Corsica Single Chaise and Cushion Feel like you are on vacation at a tropical resort as you relax in the beaming sun on this hand-woven, durable, all-weather wicker lounge chair. It is quick drying in case any cool drinks are spilled and features a thick, comfy cushion that's covered in a stain-resistant fabric. www.potterybarn.com
2. Chesapeake Double Chaise and Cushion Sit back and enjoy a good book, a cool drink or some company in this inviting chair that adjusts to four positions and comes with a convenient pullout tray. As nature surrounds you, you'll be consumed by summer's beauty. www.potterybarn.com Read more

To celebrate Prima Lighting's 5th anniversary, guests were invited to visit its new location in the village of Vaughan Mills and enjoy delectable treats provided by Café Cache while observing Read more
Offering a bevy of traditional and classical pieces such as accent chairs, buffet tables, lighting design, drapery and mirrors, Fine Art & Furniture's is your complete home décor destination. Its special decorator will happily answer all your design questions, as she guides you through a tour of her exquisite location, housing some of the most distinctive pieces in the city. Specializing in canvas painting, she can create an oil painting by simply looking at a picture. Come in for a consultation and watch the experts at Fine Art & Furniture's make your home the talk of the town.
Fine Art & Furniture's
905.669.2688