All Smiles with Dental Works 4 Kids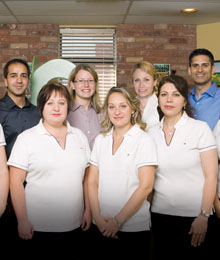 Dental Works 4 Kids is creating an exciting buzz in the Vaughan community. With the introduction of orthodontists Dr. Ajeet Ghumman and Dr. Sunny Dhingra, the office has become one of the first pediatric and orthodontic dental clinics in Ontario. Longtime friends who met early in their dental careers, they had always envisioned a place where patients could be cared for by a team of specialists as opposed to the traditional single-specialist clinic. Their vision for this type of successful practice has now become reality. "What first drew us to this profession is working with kids," says Dr. Ghumman. "It's a rewarding experience. We're helping create beautiful smiles, we're helping their whole outlook on life and their self-esteem."
Working with pediatric dentists Dr. Jill Oxner and Dr. Karen Stallaert, the specialists have taken a unique approach to preventative care to ensure that patients are monitored and treated from a young age. Together, the doctors have geared their treatment towards developing healthy teeth, jaws and muscles. "A child who can chew easily, speak clearly and smile confidently is a happier child."
By 12 months of age, it is recommended that children have their first dental visit. The pediatric dental specialists focus on the oral health and unique needs of infants, children, adolescents and persons with special needs. The doctors and their team are experienced and specially trained to treat young patients that fear or experience anxiety from dental visits. Dental Works 4 Kids is also one of the first clinics in Ontario to offer in-office sedation dentistry (dentistry while asleep) for children in a safe and comforting environment.

By age 7, or sometimes earlier, it is recommended that children have their first orthodontic consultation. "With traditional orthodontics, people wait until kids are older and all of their permanent teeth have developed. At that point treatment may become more complicated, requiring the removal of permanent teeth or even jaw surgery," says Dr. Ghumman. Dental Works 4 Kids has elevated the orthodontic experience by combining it with pediatrics. When looking at young children, the doctors ensure there is ample room for adult teeth to develop, and correct any airway issues, jaw problems or muscle imbalances. "If you treat and prevent problems early you can achieve a much more stable result," says Dr. Dhingra. "We always make sure we're taking care of the underlying issues first."
Dental Works 4 Kids offers a full educational experience for its patients and their parents. The knowledgeable team takes the time to help parents better understand the treatment needs of their child. "We listen to their concerns and talk about the reasons and the benefits of any treatment recommended," says Dr. Dhingra. A kid-friendly environment, complete with televisions, a play area and experienced staff, allows young patients to feel at ease.
Working as a team of specialists has made all the difference at Dental Works 4 Kids. "We work together and are on the same page, allowing us to better treat our patients." The results of this unified care are happy and healthy patients. Utilizing the most advanced techniques, Dental Works 4 Kids is taking pediatric dental care and orthodontics to a whole new level.
905.417.2825
9983 Keele St., Suite 202, Maple, Ont.
www.dentalworks4kids.com