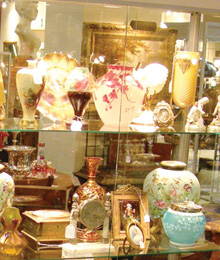 In its third year, the Premier Antique Show at the Metro Toronto Convention Centre continues to blow vintage lovers away. Antique dealers from across Ontario and Quebec are coming together on October 26, 27 and 28 to feature decorative arts, furniture, porcelains, clocks, pottery, fine jewelry and more. Read more
After a friendly Montreal taxi driver wishes me good luck, I make my way towards Londono Realty Group, which doubles as the set for the national hit show The Property Shop on HGTV. A splash of knowledge and a tidal wave of fun, the show has cameras following big-league realtor Tatiana Londono as she navigates through the cutthroat world of real estate.
The novice broker, who would construct makeshift lemonade stands with her brother as a child, began with four employees and now has 100-plus agents. Londono Realty Group is an empire led by a beautiful empress, similar to the ones we used to see in old Hollywood movies. Add smart and driven to success and you can start to conceptualize Tatiana Londono.
The receptionist is young and inviting, and similar Read more