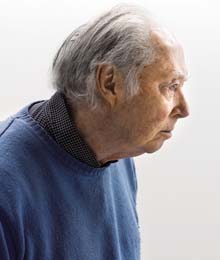 It's tough to keep up with Michael Snow. The 84-year-old juggernaut of art, who over the years has entranced the public imagination with such iconic works as the odyssey of grandiose geese in Flight Stop at the Eaton Centre, the sculptural gazers that toast the facade of the Rogers Centre in The Audience and the landmark film Wavelength, continues to provoke and stretch artistic paradigms in Canada and beyond. Unrelenting in his ability to transform and shape our visual perceptions of art, his current master strokes include "Objects of Vision," an exhibit at the Art Gallery of Ontario (AGO), In This Way, a video installation featured in the National Gallery of Canada's exhibition "Builders," and a glowing canvas display that will climb its way up the Trump Tower in Toronto, illuminating a spectrum of light and Snow's innovation and resilience. With works housed in prestigious galleries the world over, the thriving, decades-long career of Snow is a portrait of his permanence. The pluralist sees beyond single artistic realms, comfortably drifting through mediums, flowing through time with experiential art as new and relevant today as if unveiled decades ago.
What inspired you to create the 14 works that constitute "Objects of Vision," your exhibit on display at the AGO?
It's an assembling of works from various periods. I won the Gershon Iskowitz Prize, and one part of it is that you can have an exhibition at the AGO. And for many years I'd been thinking about attempting to bring together these separate sculptures that had been made at different times. The Gershon Iskowitz Prize was an opportunity to finally bring them all together and see what they kind of said to each other.
Read more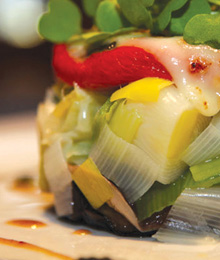 Find your cool from this list of hot destinations and must-haves.
1. HAVE A BALL Bowl, dine and celebrate at The Ballroom, Toronto's entertaining social hub. www.theballroom.ca
2. PETITE ITALY Primo & Secondo brings a zap of art, culture and superb cuisine to Montreal's Little Italy. www.primoesecondo.ca
3. PUMPED-UP KICKS Add a splash of colour to your step with these brilliant Converse sneakers. www.shopcaster.com
4. A PEEK IN THE PAST This Baroque-style mirror adds a touch of rustic charm to any décor scheme. www.shopcaster.com
5. TIME TRAVEL Add some funk to your morning wake-up call with Read more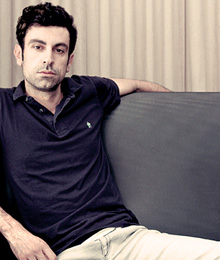 Local boy Gasper Barone sits at a corner table in the Moose & Firkin as classic pop/rock hits fuel a sparsely populated but lively room. It's a fitting backdrop, considering his first solo album, Hype, reverberates with era-spanning sound.
Pleasant and soft-spoken, Barone details the two-year process developing his six-song EP. "I'm not content with just enough," he says. "I like perfection." But for Barone, 30, perfection isn't about a polished sound. It's about capturing the moment, seizing the emotion at hand and translating it into something raw and visceral.
This attitude is evident throughout Hype's palpable twanging and upbeat melodies. From the B-52's-inspired Words Get In The Way, to the folky, rhythmic strumming of A Letter Across Continents, to the Read more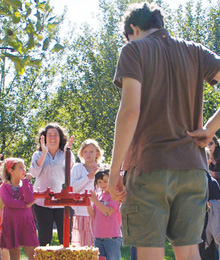 On Sept. 16, 2012, families came together for an annual event at the Spadina Museum. In support of the local food movement, the City Cider event with Not Far From The Tree featured fresh food, live arts, crafts, and more. Participants also learned how to properly pick apples and make delicious cider at Spadina's orchard.
Read more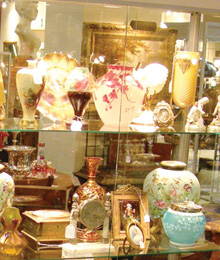 In its third year, the Premier Antique Show at the Metro Toronto Convention Centre continues to blow vintage lovers away. Antique dealers from across Ontario and Quebec are coming together on October 26, 27 and 28 to feature decorative arts, furniture, porcelains, clocks, pottery, fine jewelry and more. Read more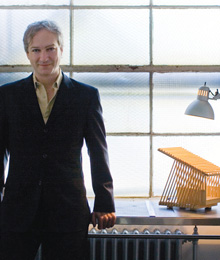 For Paul Raff, standing the test of time involves two sacred aspects. As an architect and artist, you can say he's quite familiar on how to feed longevity. "Good works of art and architecture are both of their time and timeless," he says. With an eponymous full-service studio based in Toronto, he's been awarded the public contract for Vaughan Metropolitan Centre Station (VMC), with a mission to bring light to the underground masterpiece set to run by 2015.
The VMC Station will redefine the lifestyle of Vaughan citizens, connecting the developing urban area with hot spots like York University and Union Station. Whether commuting to and from work, or going to Toronto's core to enjoy the bustling nightlife, the subway will make living in Vaughan more appealing.
When Raff first moved to Toronto in the late 1970s, he was taken Read more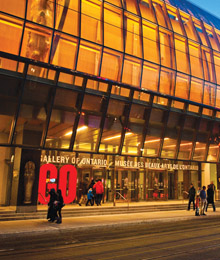 The exhibit begins with a small hallway of photographs. Some may bypass the section, but if you stop to look you'll see Picasso, the man himself. The photographs of the artist featured in the exhibit show an ordinary chap enjoying a day at the beach and a drink with some friends. But it's the art – the paintings, sculptures, prints and drawings – that reveal the extraordinary talent that was Pablo Picasso.
On May 1st, 2012, Picasso: Masterpieces from the Musée National Picasso, Paris debuted at the AGO in Toronto, the only Canadian venue to receive the touring exhibit, which includes 141 masterpieces from the French museum's 5,000-piece collection. As the first major Picasso display to land in Toronto since 1964, visitors from across the city have been flocking to the exhibit before it makes its exit on Aug. 26. Read more
BIG ART's 2nd Annual Production Gala, held on Oct. 23rd, 2009, was a success. The mission of BIG ART for Little Minds is to enrich children's lives by expanding their minds and developing their ways of thinking through the big world of art. Read more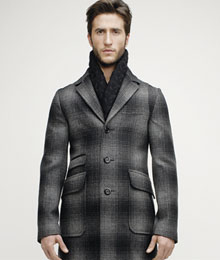 DRESS TO IMPRESS Keep him warm with this great coat. www.mackage.com
BLACK ROYAL TYPEWRITER Type up your best work with this vintage typewriter. www.etsy.com
ORGANIZE AND RECHARGE That's what you can do for his most-used gadgets. www.potterybarn.com
BULLDOG OPENER Savour every get-together with a wall-mountable bottle opener. www.potterybarn.com
NIKE BIG NIKE HI Turn heads with this white-and-red number. www.athletesworld.com Read more
Specializing in innovative artistic pieces with superior craftsmanship, Roma Moulding is the only company to manufacture mouldings from Italy. The company celebrated its 25th Anniversary on August 11th with a sophisticated event that entertained guests with classical music, along with art on a range of platforms, such as paintings, photography, books and sculptures. Two acclaimed photographers were present, in addition to a design seminar feature by the company's creative director, Maria Hoo. The event was complete with a martini bar and tasting of gourmet Italian wines. Read more