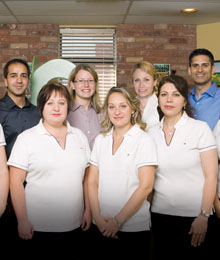 Dental Works 4 Kids is creating an exciting buzz in the Vaughan community. With the introduction of orthodontists Dr. Ajeet Ghumman and Dr. Sunny Dhingra, the office has become one of the first pediatric and orthodontic dental clinics in Ontario. Longtime friends who met early in their dental careers, they had always envisioned a place where patients could be cared for by a team of specialists as opposed to the traditional single-specialist clinic. Their vision for this type of successful practice has now become reality. "What first drew us to this profession is working with kids," says Dr. Ghumman. "It's a rewarding experience. We're helping create beautiful smiles, we're helping their whole outlook on life and their self-esteem."
Working with pediatric dentists Dr. Jill Oxner and Dr. Karen Stallaert, the specialists have taken a unique approach to preventative care to Read more
Enter the doors of Dr. Giovanni Delevadova's delightful dental office and you will find a real tree, clubhouse and two of the most genuine dentists you'll ever meet. Caught in a collage of testimonials taped to the wall, you will also find an insignia of success. "Dear Dr. Delevadova, thank you for taking out my teeth today so that it didn't hurt too bad. I can't wait for the Tooth Fairy to come," writes one of his younger fans. It's no surprise that some of Delevadova's patients have been with him for over 20 years and even travel from Italy, New York, Texas and Saskatchewan twice a year just for a cleaning.
Delevadova began his career almost 30 years ago by performing maxillofacial surgery on victims of severe trauma back home in Bucharest, Romania. "That experience made me like the idea of fixing Read more
Imagine leaving the workplace for two weeks to devote your time, knowledge, and skills to transform hundreds of lives. It all began from a patient's idea, using the right tools and a big heart. Offering dental services to patients and practitioners in Ethiopia – a country with only 48 dentists for a population of 80 million – Dr. Paul Sclodnick reveals the most rewarding experience of a lifetime. The encounter made him appreciate the practice of dentistry at a whole new level.
Q1: What drew you to Ethiopia?
I have a patient who is very involved with an organization called Global Reach Children's Fund. They're building an orphanage in Ethiopia called Faith Village. This was their first medical and dental mission to Ethiopia, one of the poorest countries in the world. I was a little apprehensive about going to Africa, since I've never been there and I expected it to be very different. Its people have a very healthy, traditional diet, but lately there has been a growing market for soft drinks, because of Western influence. The result is a proliferation of decaying, bad teeth. Read more