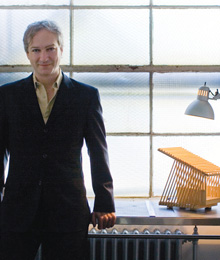 For Paul Raff, standing the test of time involves two sacred aspects. As an architect and artist, you can say he's quite familiar on how to feed longevity. "Good works of art and architecture are both of their time and timeless," he says. With an eponymous full-service studio based in Toronto, he's been awarded the public contract for Vaughan Metropolitan Centre Station (VMC), with a mission to bring light to the underground masterpiece set to run by 2015.
The VMC Station will redefine the lifestyle of Vaughan citizens, connecting the developing urban area with hot spots like York University and Union Station. Whether commuting to and from work, or going to Toronto's core to enjoy the bustling nightlife, the subway will make living in Vaughan more appealing.
When Raff first moved to Toronto in the late 1970s, he was taken Read more
The memory is all-too-familiar: sitting in the backseat of the family car with your elders, listening to them reminisce about the past while proudly pointing to residential or commercial areas that were once plains of nothingness. Press the fast-forward button to the near future and you'll soon be extending your hand towards the unprecedented growth of Vaughan: towering skyscrapers, an integrated subway network and a bubbling metropolitan centre. "The generations coming up are going to drive their kids around and say, 'you know, when we were younger, this was just fields and no buildings,' which is sort of the same thing my dad did with me when he drove to some of the sites he was developing," says Peter Cortellucci, deeply involved in the development industry since he was a teenager. As vice-president of the Cortel Group, a diversified development firm building sustainable residential communities across the GTA, Cortellucci, 25, is palpably young, but somehow formulates words of Read more
We've scoured the city, chatted with prominent people and examined the evidence, all in our attempt to unearth the source of Vaughan's allure. This is what we found.
Green Initiatives
With numerous green initiatives in place such as the Greening Vaughan program and an impressive 740 hectares of parks and acres of land ensured by the Woodlot Protection Strategy, Vaughan is committed to painting the city green. "The woodlots that you see that are speckled through our subdivisions are going to be there through perpetuity. Vaughan is one of the first municipalities in the province of Ontario to do this," says Vaughan Mayor Linda Jackson. Read more