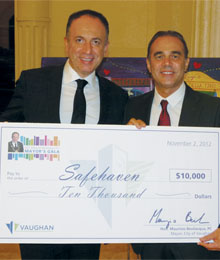 The Safehaven Gala: Celebrating 23 Years event attracted over 700 supporters and raised $100,000 at the Bellvue Manor in Vaughan. Guests included Vaughan mayor Maurizio Bevilacqua, the Knights of Columbus of St. Peters Parish, the directors of Italian Car Day and chief meteorologist Anthony Farnell of Global News Toronto. A charitable organization, Safehaven provides support to families whose children suffer from multiple disabilities and complex needs.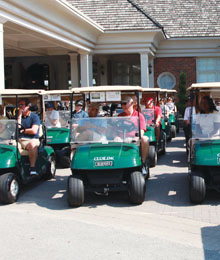 The Greater Toronto Marketing Alliance hosted its third successful Celebrity Golf Tournament: A Celebration of GTA Communities at the picturesque King Valley Golf Club in King City on Sept. 13, 2012. Over 100 guests participated and helped raise funds for the GTMA's regional efforts in attracting foreign investment and its internship program in the GTA. The GTMA thanks all tournament attendees and sponsors for their support. Over 400 people attended the 4th Annual Hats On for Awareness Hatsquerade gala this year wearing their favourite — and at times outrageous — hats in support of mental health. Keynote speaker Michael Landsberg of TSN'S Off the Record brought the crowd to its feet with his stirring anecdote on battling depression.The event was a success, raising $65,000 in support of the Centre for Addiction and Mental Health (CAMH).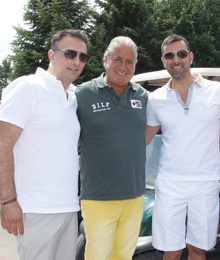 Over 20 years ago, Peter Eliopoulos, founder of byPeterandPauls.com, created Care for Kids, a charity golf tournament to raise much-needed funds for the Hospital for Sick Children and New Leaf. This year's event once again took place at the Carrying Place Golf and Country Club and it was a tremendous success, with over $1 million raised to date. Read more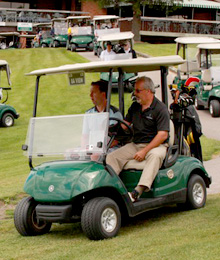 On May 31, 2012, the seventh annual ShareLife Charity golf tournament for Immaculate Conception Parish took place at the beautiful Nobleton Lakes Golf course. The sun-filled day was made brighter by the smiles and excitement of 150 golfers that joined the tournament. The lovely volunteers, amazing staff at Nobleton Lakes, a delicious barbequed lunch, special dinner and prizes made this day a huge success. This event is a great opportunity for the parish community to get together to raise funds for ShareLife, while having fun volunteering, golfing and sponsoring the event. This year's tournament raised over $30,000.
Read more
The Toronto Women's Expo, held at the Days Hotel in North York on June 10, 2012, was an incredible event showcasing 97 exhibitors. Presentations, demonstrations, speakers and exhibitors were on-hand to provide information to 700 guests. Charities such as the Yellow Brick House, WomanAide, Dress for Success, A Celebration of Women Foundation and Canadian Breast Cancer Association received support and awareness. The next expo will be even bigger, supporting five worthy charities in November at Downsview Park.
Read more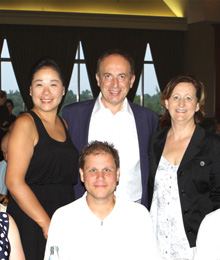 Mayor Maurizio Bevilacqua's Annual Charity Golf Classic was an overwhelming success, with more than 200 golfers raising thousands of dollars for not-for-profit and community organizations. "It is an incredible feeling to be the mayor of a city where the spirit of generosity defines its very essence," says Vaughan Mayor Maurizio Bevilacqua. Taking place at Copper Creek Golf Club on July 17, 2012, the double shotgun tournament featured hole-in-one, closest to the pin and longest drive contests, as well
as a silent auction.
www.vaughan.ca
Read more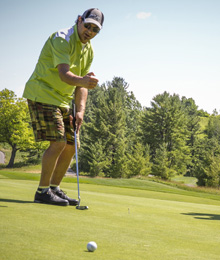 A day at Eagles Nest Golf Club was filled with friendly competition, networking and enjoyable tee stops along the way. Course stops included porchetta, spiducci, Pravda Vodka, Molson Coors, Mombacho Cigars and Pizza Nova. Each year, proceeds raised from this special event go towards assisting Villa Charities' family of organizations. The funds raised this year will benefit culturally sensitive programs for seniors at two long-term care facilities and community programs, individuals with intellectual and mental disabilities at group homes, as well as the general community via sports and cultural arts programs.
www.villacharities.com
Read more
On June 25, 2012, hundreds of people came together for an event to support the Canadian Breast Cancer Foundation (CBCF). Taking place at David Pecaut Square in Toronto, Cook for the Cure PINKnic included a flashmob dinner presented by KitchenAid Canada. With wine donated by Inniskillin Wine and a special appearance by popular chef Lynn Crawford, the event was a grand success. Funds raised from this fun-spirited evening were donated to the CBCF.
www.cookforthecure.ca
Read more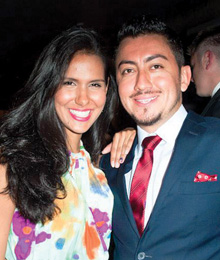 On June 15, 2012, over 300 of Toronto's young professionals gathered at the historic Berkeley Church to mix, mingle, network and raise money for charity at the Omega Group & Evolution PR Summer Soiree. The party lasted until 2 a.m., with legendary DJ Lissa Monet, refreshments from Société Perrier and high-end goodies from Purdy's Chocolates. All profits earned were donated to Seventh Stage Theatre Productions, a non-profit theatre company dedicated to elevating women's voices in theatre.
www.evolutionpr.ca
Read more