On June 25, 2012, hundreds of people came together for an event to support the Canadian Breast Cancer Foundation (CBCF). Taking place at David Pecaut Square in Toronto, Cook for the Cure PINKnic included a flashmob dinner presented by KitchenAid Canada. With wine donated by Inniskillin Wine and a special appearance by popular chef Lynn Crawford, the event was a grand success. Funds raised from this fun-spirited evening were donated to the CBCF.
www.cookforthecure.ca
Read more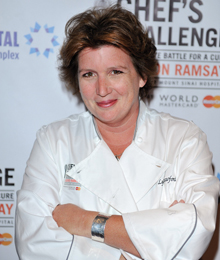 When six culinary masters enter a kitchen arena – cooking utensils at the ready – leading a team of amateurs into gruelling cooking combat, who will walk out the winner? Why, Mount Sinai Hospital, of course.
That's because these cuisine-creating warriors won't be taking up arms against each other, but instead, will be turning their blades towards cancer at the second Chef's Challenge. Six iconic Food Network celebrity chefs will gather at the Metro Toronto Convention Centre on Nov. 26, 2011, to whip up food and funds, all in support of breast and ovarian cancer research at Mount Sinai.
"I feel I have the responsibility to get involved in my community," says David Rocco, host of David Rocco's Dolce Vita, and one of six celebrity chefs competing in the Chef's Challenge. Read more