During our childhood in northern Italy, my brother Dante and I were brought up on our mother's homemade cooking. Her version of Italian food was simple and healthy, always using fresh and local ingredients. When we first opened Piola restaurant in 1986, our goal was to share our mother's style of cooking in an environment that showcased Italy's cultural esthetic.
From the very beginning, we wanted Piola's kitchens to duplicate the way we cook at home with our family and friends. Our mother always told us, "Simple is best," and I think too many chefs these days are complicating Italian cuisine. When we eat at home we don't have excessive garnishes on the plate, so why would we do that in a restaurant? Cooking should be simple. We use the best produce straight from local farms, with the least amount of intervention before presenting it to customers. Read more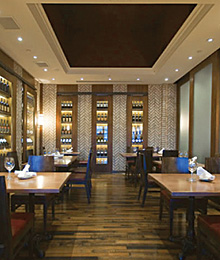 1. SARPA Becoming a local favourite for York Region foodies, Sarpa's relaxed atmosphere and phenomenal entrees are the perfect blend for a great evening. Its décor is a modern interpretation of more traditional, rustic features, while the cuisine is stacked with succulence. Savour the Pan-Seared Veal Tenderloin, sink your teeth into the Grilled Lamb Chops 'Scottadito', or relish the seafood mix of the classic Zuppa di Pesce. www.sarparestaurant.com
2. Harbour Sixty There are few Toronto dining establishments that offer the pure, unadulterated level of class that Harbour Sixty so elegantly exudes. The food is premier. The décor: stunning. If you're looking to celebrate a milestone anniversary, impress a client or simply dine like royalty, Harbour Sixty will not disappoint. Read more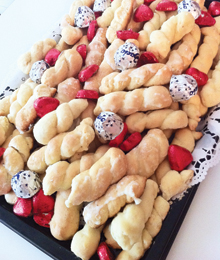 Good food and drink are necessities when creating an inviting atmosphere for any occasion. Bring warmth to your home, and delight your guests with the help of these new appetizing finds.
Hugs, Hearts and Cookies
Follow Strawberry Lane for all of your entertaining essentials, and choose from trays of sweets starting from only $29. Whether you're gathering for a festive event or just want to share a special treat with your family, Strawberry Lane will fill your home with the feel-good smell of freshly baked goods.
www.strawberrylane.ca
Express-o Yourself
The Breville® Barista Express Espresso Machine will turn your kitchen into an Italian café, making delicious Read more
Ingredients:
1 rotisserie chicken, about 2 1/4 pounds
3/4 cup mayonnaise
3/4  cup finely chopped celery
2 tablespoons dill pickle relish
1 tablespoon chopped fresh tarragon
1/2 teaspoon salt
1/4 teaspoon ground black pepper
12 thin slices of Panera Bread Country loaf (If you don't have a Panera Bread Country loaf, try Panera Bread Sourdough Rolls or thinly sliced white whole grain, honey wheat or rye loaf.)
6 leaves romaine lettuce, torn Read more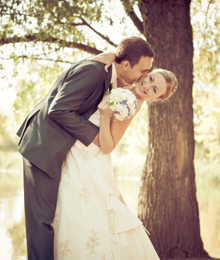 Dizennio Floral
For a floral arrangement with that perfect touch of beauty and elegance, just follow the sweet scent of budding delights to Dizennio Floral. With a specialty for weddings, Dizennio's artistically crafted arrangements are the pinnacle of bouquet building and provide the perfect accent to any bridal affair. Using only the freshest flowers, Dizennio's extensive selection is also ideal for holidays, special occasions and corporate functions. Read more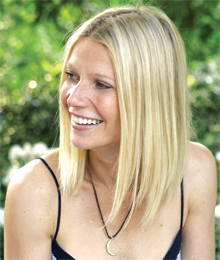 When you're an actress-turned-mom-turned-blogger-turned-singer, you're bound to have a lot on your plate. But Gwyneth Paltrow just couldn't resist adding yet another entree to her CV – a cookbook author.
With her statuesque figure and peaches-and-cream complexion, the award-winning actress is just at home in her kitchen than she is on the stage, having developed a passion for food after sharing treasured moments cooking alongside her late father, filmmaker Bruce Paltrow. Stretching beyond her role as actress, Paltrow's adoration for food imparted by her dad culminates in My Father's Daughter (Grand Central Life & Style, 2011), which is now a bestseller. "For me, I kind of feel like everybody in the whole world has passions that they should be pursuing … if people see me doing different things … maybe they would think, Read more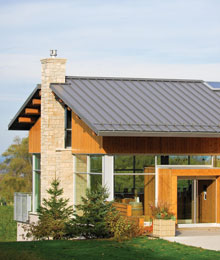 Wine, bread and cheese – delicious ingredients to a good time
Fielding Estate Winery
Good wine, good food, good friends – three simple pleasures that have been the source of memorable occasions for centuries. While we might not be able to help you in the friends department, – although, feel free to invite me to your next shindig – we can definitely take care of the food and wine.
For starters, how about some the finest wine from the Niagara region? Fielding Estate Winery was originally founded in 2005 by Ken and Marg Fielding in the renowned Beamsville Bench area of the Niagara Peninsula. Today, their son, and former professional stock car driver Curtis Fielding and his wife, Heidi, oversee operations at Fielding Estate, crafting spectacular Read more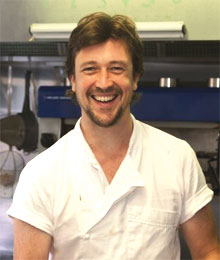 Acclaimed head chef Michael Smith of Scotland's The Three Chimneys restaurant serves City Life Magazine one of his sumptuous recipes for success.
Three Salmom Kedgeree
Ingredients: (Enough for 6/8 breakfast portions)
2 cups Basmati Rice
450 g organic Scottish salmon fillet
3 lemon slices
2 onion slices
2 bay leaves
2 sprigs of parsley with stalks
1 sprig of fennel with stalk
1 tbsp white peppercorns Read more
Cruise down Highway 7, head north on Edgeley Boulevard and follow your nose to Applewood Crescent, where you'll find a joyous shop of decadent delights all served with good humour and a smile. That's Son of a Chef Catering, where they're serious about food, but not about themselves – and who could be with a name like that?
"People get a kick out of our name," says owner Fabio Fantauzzi. "The name branched out from what most people think [laughs], but my mom was a chef, so we played around with it, and Son of a Chef was born."
Catering all occasions, from small to big, Son of a Chef has the culinary creations ideal for any birthday, wedding or simple intimate gathering – it doesn't matter. Son of a Chef will cater for a two-person dinner or an event with hundreds of people. Read more
Add these items to your grocery list if you know what's good for you.
CHEESE, PLEASE: There are hundreds of cheddar cheese makers out there, but none are as bold in taste as Balderson Cheese. No wonder they market their product as the "World's Finest Cheddar Cheese." www.cheese.ca
GOING WITH THE GRAIN: This is the renaissance of grocery shopping. Organics Delivered offers 100 per cent organic fruits and vegetables delivered from the farm to your door for less than what you'll pay at the grocery store. www.organicsdelivered.com
EAT ME-AT: Skip the hassle of indoor barbequeing this winter. Taste the cornerstone of American culture with a gourmet twist at m:brgr Restaurant – home of the infamous 100-dollar Read more