Cruise down Highway 7, head north on Edgeley Boulevard and follow your nose to Applewood Crescent, where you'll find a joyous shop of decadent delights all served with good humour and a smile. That's Son of a Chef Catering, where they're serious about food, but not about themselves – and who could be with a name like that?
"People get a kick out of our name," says owner Fabio Fantauzzi. "The name branched out from what most people think [laughs], but my mom was a chef, so we played around with it, and Son of a Chef was born."
Catering all occasions, from small to big, Son of a Chef has the culinary creations ideal for any birthday, wedding or simple intimate gathering – it doesn't matter. Son of a Chef will cater for a two-person dinner or an event with hundreds of people. Read more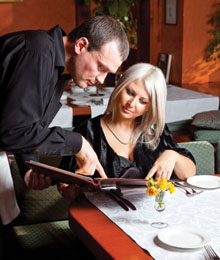 If you're looking to invigorate your taste buds with a rich and warm meal, turn to Vaughan to feed all your needs.
1. Di Manno Ristorante
www.dimannoristorante.com | 905.707.5888
Visit Di Manno for an unforgettable experience complete with a meal that melts in your mouth. The chic, romantic ambience accompanied by a welcoming staff has Vaughan residents raving. Whether it's a light lunch, a delicious dinner or a catered event, Di Manno Ristorante has it all.
2. Nawab Authentic Indian Cuisine
www.nawabindiancuisine.ca | 905.707.5002
Indulge in exotic spices at Nawab Authentic Indian Cuisine. Blending rich and silky curries that vary from mild to hot Read more