During our childhood in northern Italy, my brother Dante and I were brought up on our mother's homemade cooking. Her version of Italian food was simple and healthy, always using fresh and local ingredients. When we first opened Piola restaurant in 1986, our goal was to share our mother's style of cooking in an environment that showcased Italy's cultural esthetic.
From the very beginning, we wanted Piola's kitchens to duplicate the way we cook at home with our family and friends. Our mother always told us, "Simple is best," and I think too many chefs these days are complicating Italian cuisine. When we eat at home we don't have excessive garnishes on the plate, so why would we do that in a restaurant? Cooking should be simple. We use the best produce straight from local farms, with the least amount of intervention before presenting it to customers. Read more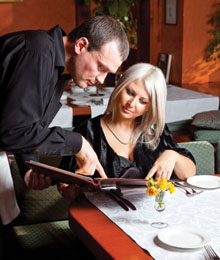 If you're looking to invigorate your taste buds with a rich and warm meal, turn to Vaughan to feed all your needs.
1. Di Manno Ristorante
www.dimannoristorante.com | 905.707.5888
Visit Di Manno for an unforgettable experience complete with a meal that melts in your mouth. The chic, romantic ambience accompanied by a welcoming staff has Vaughan residents raving. Whether it's a light lunch, a delicious dinner or a catered event, Di Manno Ristorante has it all.
2. Nawab Authentic Indian Cuisine
www.nawabindiancuisine.ca | 905.707.5002
Indulge in exotic spices at Nawab Authentic Indian Cuisine. Blending rich and silky curries that vary from mild to hot Read more