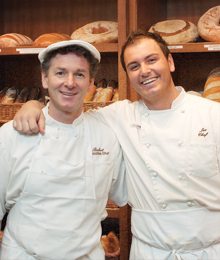 Every celebration has an ending, but not before cake is served. For centuries, baked desserts have served a traditional role in the celebratory landscape – from birthdays and bar mitzvahs to weddings and anniversaries. Yet, cakes have evolved from their conventional role of edible accessories to the main event themselves, reflecting innovation and uniqueness in baking craftsmanship.
Surmounting the pressure that comes with creating good-looking cake is Robert Bozzo, owner and executive chef of St. Phillips Bakery in Maple, Ont. The scent and sight of freshly baked cakes topped with Callebaut chocolate; creamy pastries oozing with chilled cream, festive treats and hot crispy breads has generated crowds of customers yearning for a bite of St. Phillips, a multi-faceted bakery renowned for all things sweet since 1989. Read more
Cruise down Highway 7, head north on Edgeley Boulevard and follow your nose to Applewood Crescent, where you'll find a joyous shop of decadent delights all served with good humour and a smile. That's Son of a Chef Catering, where they're serious about food, but not about themselves – and who could be with a name like that?
"People get a kick out of our name," says owner Fabio Fantauzzi. "The name branched out from what most people think [laughs], but my mom was a chef, so we played around with it, and Son of a Chef was born."
Catering all occasions, from small to big, Son of a Chef has the culinary creations ideal for any birthday, wedding or simple intimate gathering – it doesn't matter. Son of a Chef will cater for a two-person dinner or an event with hundreds of people. Read more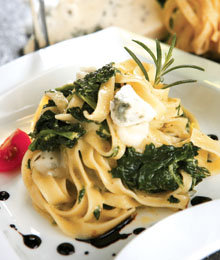 Finding a delicious meal in a friendly urban atmosphere has just become easier. If you're up for an experience that transcends the average date with your local trattoria, it's worth taking a trip uptown. This summer, the opening of Di Manno Ristorante will offer a savoury piece of Italy and a touch of Mediterranean fusion to patrons throughout the city. The upscale eatery is set to unleash some of the freshest and finest gourmet cuisine, combined with an unbeatably warm encounter.
Specializing in preparing heavenly meals is not something the establishment takes lightly. "It's more than just food; it's something social and comforting," says co-founder Nancy Di Manno. "Dining is a great way to unwind with a good glass of wine Read more
As  you open the doors of Mercato Fine Foods, the sounds of friendly chit-chat and the aromas of home-cooked specialties and robust espresso transports you to a charming Italian village.
Taking its inspiration from the culture-rich country of Italy, the bakery-deli's name translates to market. And that is exactly the feeling that customers get when they come in from a busy day to browse the selection, grab a bite or replenish their weekly groceries. "The vibrant colours in our décor invite you inside," says Rosanna Loiero, who owns Mercato with her husband, Salvatore Loiero. "I think we've created a very welcoming atmosphere," he says. Read more
As soon as you open the doors to Première Moisson bakery, you'll feel as though you've been whisked away to a charming French town. Tucked away on a street in Quebec, the bakery welcomes you with the sweet, nostalgic aromas of fresh baked bread and rows of delectable sweets. Tempting you with a different speciality bread each month (mmm … this month is White Chocolate and Coconut), a gourmet buffet with handmade hors d'oeuvres, sandwiches and pastries, as well as a sit-down bistro where guests can relax and enjoy a hearty homemade meal, Première Moisson delivers a first-class experience. Guiding the way to Première's success with an emphasis on the French baguette, owner Liliane Colpron was recently honoured by the French government with the L'Ordre Du Merite Agricole. Read more