Life's Simple Pleasures: Gwyneth Paltrow's My Father's Daughter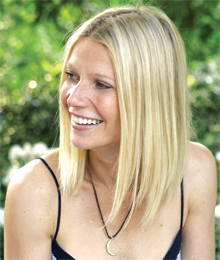 When you're an actress-turned-mom-turned-blogger-turned-singer, you're bound to have a lot on your plate. But Gwyneth Paltrow just couldn't resist adding yet another entree to her CV – a cookbook author.
With her statuesque figure and peaches-and-cream complexion, the award-winning actress is just at home in her kitchen than she is on the stage, having developed a passion for food after sharing treasured moments cooking alongside her late father, filmmaker Bruce Paltrow. Stretching beyond her role as actress, Paltrow's adoration for food imparted by her dad culminates in My Father's Daughter (Grand Central Life & Style, 2011), which is now a bestseller. "For me, I kind of feel like everybody in the whole world has passions that they should be pursuing … if people see me doing different things … maybe they would think, well I've always wanted to, you know, do something like that and they would. I just think none of us should stay in our box and if we have passions we should explore them," said Paltrow in a recent interview with Jian Ghomeshi on CBC's Q radio show.
As a teenager, Paltrow would watch the cooking channel with her father to recreate dishes in the comfort of their California home. Paltrow soon gained success in the film industry, receiving an Oscar in 1999 for her portrayal of Viola de Lesseps in Shakespeare in Love. Her most recent performances include gracing the stage of the 2011 Academy Awards to sing Country Strong, and Cee-Lo Green's Forget You at this year's Grammy Awards. But Paltrow won't fail to remember the contended, concentrated look on her father's face as they cooked up love and togetherness with food for family and friends. "He helped me realize it's all about the here and now, that happiness happens on a freezing winter night or in the garden when the weather's warm, often with a good bottle of wine, and always with the people you love. You just need some good ingredients and a few simple recipes," she writes in My Father's Daughter.
Her collection of 150 recipes melt the heart just as they do the palate, staying away from the ostentatious to instead venture into the oh-so-familiar, with dishes like Crispy Potato and Garlic Cake, and Cheesy-Stuffed Turkey Burgers adding new twists to comfort food. The foodie finds balance by using organic ingredients and including healthy dishes such as Slow-Roasted Tomato Soup and Classic Chopped Salad with Anchovy Vinaigrette, along with breakfast treats and delicious family meals such as Oyster Po'Boys and Seafood Paella, Spanish Mama Style. This dish pays tribute to her time in Spain, where Paltrow, the host of the PBS series Spain … On the Road Again, lived for a year as a teenager.
Once you peel back the layers of glitz and glamour, her lifestyle is not that far off from the ordinariness of our days, where a combination of food and family takes the cake as life's simplest pleasures. In her book she writes: "He [her father] instilled in me the idea that a meal made for your family is an expression of love, a source of
pleasure – not only in the visceral enjoyment of the food, but also in the magic that is created when you imbue food with energy and nurturing."
www.grandcentrallifeandstyle.com
Crispy Potato & Garlic Cake
Ingredients
2 large baking potatoes (2/3 pound peeled)
1/4 cup plus 1 tablespoon duck fat (tablespoon for the pan) or butter
1/4 cup extra virgin olive oil
3 cloves peeled garlic, 2 crushed, 1 finely minced
Coarse salt
1 tbsp finely chopped fresh parsley
1. Preheat the boiler.
2. Boil the potatoes for 20 mins and let them cool before slicing them into 1/8 inch thick slices. Heat a spoonful each of the duck fat and the olive oil in a large nonstick frying pan over medium heat. Add 1 of the crushed garlic cloves and as many potato slices as can fit in one layer. Cook for about 3 mins a side, or until lightly browned. Remove to a paper towel-lined plate and repeat with the remaining fat and potatoes, switching out the garlic cloves when they get too brown.
3. Coat a small (6-8 inch) cast-iron skillet with the tablespoon of duck fat. Line the bottom with a single layer of potato slices, sprinkle with salt, and add another layer. Repeat this process, pressing each layer down hard with the back of a wooden spoon and lightly salting as you go until you've layered all your potatoes. Pressing them down is what will keep the cake together, so don't be too gentle. Stick the cake under the broiler until really browned and crispy, about 5 mins. Invert it onto a plate and scatter with the 1 clove of finely minced garlic, parsley, and bit more salt if you like. Cut into wedges and serve.