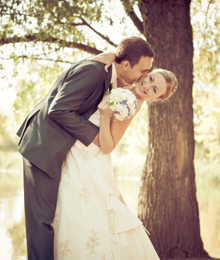 Dizennio Floral
For a floral arrangement with that perfect touch of beauty and elegance, just follow the sweet scent of budding delights to Dizennio Floral. With a specialty for weddings, Dizennio's artistically crafted arrangements are the pinnacle of bouquet building and provide the perfect accent to any bridal affair. Using only the freshest flowers, Dizennio's extensive selection is also ideal for holidays, special occasions and corporate functions. Read more
"God created us in all shapes and sizes," says Irma Matarazzo. She, along with her husband, Antonio, is the backbone of a successful tailoring business, which has stood the test of time since 1968.
Established on the foundation of Antonio Matarazzo's dream to bring quality craftsmanship to our doorsteps, the revered House of Rome brings tailoring to a new level, while surging forth the art of the cut. As a penta-lingual master of the bespoke suit, Antonio will meticulously fuse your measurements, style and taste with the age-old practices of Italian couturiers.
A rarity, Antonio finds his place as one of the very few existing master tailors in the world, with a design background culled from Naple's prestigious Galleria Umberto I Cappozzoli School. Read more