Road Hockey to Conquer Cancer took place on Oct.1, 2011 at Ontario Place, with 200 teams raising $2.4 million for cancer research at Princess Margaret Hospital and the Canadian Cancer Society. Don Cherry, NHL star Jeremy Roenick, Tyler Stewart of Barenaked Ladies, and many others, also took part in the record-breaking event. It was an incredible day and one that will be repeated annually in cities across Canada with a vision to conquering cancer in our lifetime. Read more
On June 9, 2011, just before Mauro Orrico embarked on a two-day journey for the Ride to Conquer Cancer for Princess Margaret Hospital, he hosted a fabulous fashion show. Complimentary champagne and hors d'oeurves were served as guests kept their eyes glued to the makeshift runway at Julius Banquet Hall. Pieces by 10 unique clothing stores were showcased that evening, as models were photographed and fashion was celebrated. Read more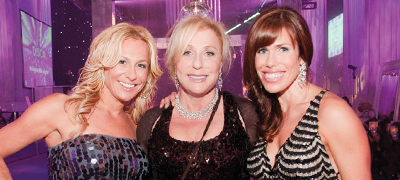 The Pencer Brain Trust 'brought on the night' for the 11th annual fundraising disco gala at Liberty Grand Entertainment Complex on May 25, 2011. An enthusiastic crowd danced as the legendary Village People performed hits from the '70s. Over $500,000 in net proceeds was raised to benefit patient care and Read more
The legendary Village People are coming to 'bring on the night' at this year's DISCO gala, hosted by the Pencer Brain Tumor Centre. A night of dancing, a mixology bar, and delicious delicacies await you. All proceeds will be going to the Pencer Brain Tumor Centre at Princess Margaret Hospital for patient care, research and education programs. Join the fun and support a great cause on Wed. May 25, 2011, at the Liberty Grand Entertainment Complex in the,Artifacts Room at 7:30 pm. For more information, please call 416.923.2999 or visit http://pencerbraintrust.com/disco/
Prominent figures and stylish socialites gathered at the Eagles Nest Golf Club on a gorgeous evening on May 6th to witness the newest trends from Valentino, menswear from V Hazelton, Lanvin, Moschino Read more
The second annual Joe Di Palma Foundation Gala took place on Nov. 5th, 2009, at Venetian Banquet and Hospitality Centre in memory of Joe Di Palma. Over $55,000 was raised to support brain tumour patients and their families at The Gerry & Nancy Pencer Brain Tumour Centre at Princess Margaret Hospital. This year's theme was 'Wonder,' and guests dined on gourmet food, received psychic readings in the Mystic Lounge and participated in Read more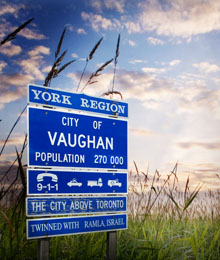 A Toronto Life magazine feature disheartens the Vaughan community, whose major accomplishments are clouded with claims of corruption and scandal.
Every time I'm asked where I'm from I hesitate. I pause because I want to avoid the know-it-all smirk. I equivocate because I don't want to hear the toxic and discriminative comments that fall from ignorant lips. That's not fair to me or any other resident of Vaughan who lives life according to the law.
I'm not naive, but Vaughan is primarily a city full of heart, ­not villains. So why do cantankerous mediums continue to pollute our clean air with what appears to be anti-Italianism and acrimonious sound bites? Read more
We've scoured the city, chatted with prominent people and examined the evidence, all in our attempt to unearth the source of Vaughan's allure. This is what we found.
Green Initiatives
With numerous green initiatives in place such as the Greening Vaughan program and an impressive 740 hectares of parks and acres of land ensured by the Woodlot Protection Strategy, Vaughan is committed to painting the city green. "The woodlots that you see that are speckled through our subdivisions are going to be there through perpetuity. Vaughan is one of the first municipalities in the province of Ontario to do this," says Vaughan Mayor Linda Jackson. Read more

Like Vivian Maranzan – who lost her mother to breast cancer – we all wish for this disease to be a thing of the past. The Think Pink Event, held in her backyard on Aug. 8, 2009, was in support of Read more
Benefitting cancer research for the Princess Margaret Hospital, this invitation-only event featured some of the best in Toronto's fashion personalities via the runway at Eagles Nest Golf Club on May 8th, 2009. Against the beautiful backdrop of the posh venue, Read more