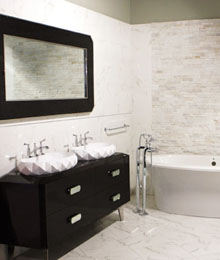 On July 7, 2010, one of Canada's leading tile and bath importers hosted an extravagant party that rivalled its dazzling products. Hundreds of guests joined Canaroma's massive celebration of its substantial showroom expansion and brand new kitchen and tile lines at its flagship location in Vaughan. "We've been around for many, many years and the name has been very successful and I think our customers deserve this as an appreciation event," says Anthony Piacentini, Canaroma's sales and design consultant.
Guests clinked glasses after Mayor Linda Jackson cut the ribbon to commemorate the grand reopening of Canaroma's 19,000 sq. ft. centre. Several bars were stationed throughout the mammoth showroom, serving delicious drinks and graciously sized appetizers to the guests and industry professionals in attendance. Entertainment was abundant with live shower demonstrations, Read more
We've scoured the city, chatted with prominent people and examined the evidence, all in our attempt to unearth the source of Vaughan's allure. This is what we found.
Green Initiatives
With numerous green initiatives in place such as the Greening Vaughan program and an impressive 740 hectares of parks and acres of land ensured by the Woodlot Protection Strategy, Vaughan is committed to painting the city green. "The woodlots that you see that are speckled through our subdivisions are going to be there through perpetuity. Vaughan is one of the first municipalities in the province of Ontario to do this," says Vaughan Mayor Linda Jackson. Read more