Gasper Barone: Feel the Hype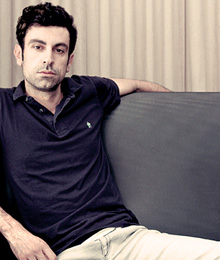 Local boy Gasper Barone sits at a corner table in the Moose & Firkin as classic pop/rock hits fuel a sparsely populated but lively room. It's a fitting backdrop, considering his first solo album, Hype, reverberates with era-spanning sound.
Pleasant and soft-spoken, Barone details the two-year process developing his six-song EP. "I'm not content with just enough," he says. "I like perfection." But for Barone, 30, perfection isn't about a polished sound. It's about capturing the moment, seizing the emotion at hand and translating it into something raw and visceral.
This attitude is evident throughout Hype's palpable twanging and upbeat melodies. From the B-52's-inspired Words Get In The Way, to the folky, rhythmic strumming of A Letter Across Continents, to the '90s pop-rock revival Tear It Up, Barone's optimistic vibe manifests in an accessible, light-hearted romp with nostalgia riding shotgun.
"You can't satisfy everyone, and I'm not trying to," he says of his sound. "If you want to do something, go and do it. It's the best feeling in the world."
Life is full of ups and downs, and when opportunity comes a-rockin' you just gotta move to the beat. And with Hype's upbeat, toe-tappin' tunes, Barone isn't sitting this dance out.
www.cdbaby.com/cd/gasperbarone