Paul Raff's vision for Vaughan Metropolitan Centre Station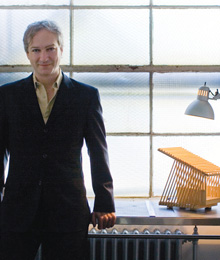 For Paul Raff, standing the test of time involves two sacred aspects. As an architect and artist, you can say he's quite familiar on how to feed longevity. "Good works of art and architecture are both of their time and timeless," he says. With an eponymous full-service studio based in Toronto, he's been awarded the public contract for Vaughan Metropolitan Centre Station (VMC), with a mission to bring light to the underground masterpiece set to run by 2015.
The VMC Station will redefine the lifestyle of Vaughan citizens, connecting the developing urban area with hot spots like York University and Union Station. Whether commuting to and from work, or going to Toronto's core to enjoy the bustling nightlife, the subway will make living in Vaughan more appealing.
When Raff first moved to Toronto in the late 1970s, he was taken aback by the beauty and detail of the city's subway lines. Born in Montreal and then moving to Saskatoon, Saskatchewan, the city of Toronto offered a change of pace while opening his eyes to new creative projects. Raff viewed every station in the city as a "significant work of public infrastructure and a big part of people's daily lives." He believes the esthetics of a communal space like a subway station should be refined, thoughtful and moving.
For this visionary, the station that stands out the most in Toronto is Dupont. "Artist James Sutherland worked with the architects to do beautiful mosaics of flowers that go from platform level up to the second level, and it gives the station a unique identity, a specialness and beauty," says Raff. With this enthusiasm for art in public spaces, it is no surprise that Raff showed interest in Vaughan's latest project. "The station I'm involved with is a commuter station. People are going there every day on their way
to work and back — it's a part of
their lives."
An international call for the public art contract of the VMC Station and a passionate response made for a rigorous decision process. After gaining a spot on the short list, presenting ideas and connecting with the architects, Raff became the appointed artist for
the project.
His brilliant redevelopment of
Toronto's waterfront was recognized with an award in 1993, and is one of the projects that put him on the pedestal he still stands on today. In 2001, he was recognized as the youngest recipient of the Ontario Association of Architects' Allied Arts Award for lifetime achievement, and in 2009, he received the Allied Arts Medal by the Royal Architectural Institute of Canada. Contributing to something as significant as the VMC Station is a crystal-clear step for such an accomplished artist.
Integrating artwork will not only attract the eyes of everyday commuters, but help the future subway station establish a solid identity. "The architects and I agreed that the ceiling was a thing that was calling out for an artistic treatment," says Raff of the domed entranceway. "So we located what seems like an irregular, almost random pattern of skylights, which not only gives it a bit of visual life, but they're designed to maximize the light penetration into the deep space." The opposite side of the ceiling was completed with a highly reflective surface, giving people a beautiful collaged view. "You might see someone walking in the distance through a turnstile, or someone carrying their groceries, but you're seeing them upside down and in fragments. It is a viewpoint that is only available to people when flying or during a cinematic experience." Reflecting the everyday life of the station through an awe-inspiring dome-shaped ceiling, the art piece is called "Atmospheric Lens."
Whether Raff is working on a public project or private property, he aims to integrate environmental sustainability. In the VMC Station, he focuses on natural light, reducing the need to expend energy on artificial lighting and bringing a brighter view to the space. The VMC Station is taking cues from Vaughan's upcoming urban centre and aiming to lessen its carbon footprint. According to the Toronto Transit Commission Report from a meeting in August 2010, the station will also have water-efficient plumbing fixtures, an energy-efficient HVAC system, and many more features that comply with the Toronto Green Standard. Integrity-based architecture, which includes "environmental sustainability, an economy of means and high artistic aspirations," is something that Raff aims for in all of his work. With the joint efforts of Raff and the architects, the green vision for the VMC Station is sure to come to life.
Currently, Raff is also involved in three other public art projects in downtown Toronto, and some much anticipated private residences. Adding to his impressive resumé, he won an international competition to contribute public artwork to Market Wharf, which is a new commercial and residential project near the St. Lawrence Market. "Every project I undertake is a unique piece of land in the world and has a unique set of requirements," says Raff. Making creative contributions to different projects, the Vaughan Metropolitan Centre is fortunate to have Raff as its light at the end of
the tunnel.