Picasso at the AGO – The Big Picture of Picasso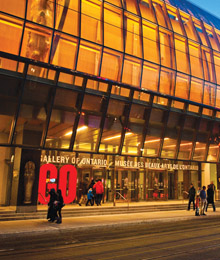 The exhibit begins with a small hallway of photographs. Some may bypass the section, but if you stop to look you'll see Picasso, the man himself. The photographs of the artist featured in the exhibit show an ordinary chap enjoying a day at the beach and a drink with some friends. But it's the art – the paintings, sculptures, prints and drawings – that reveal the extraordinary talent that was Pablo Picasso.
On May 1st, 2012, Picasso: Masterpieces from the Musée National Picasso, Paris debuted at the AGO in Toronto, the only Canadian venue to receive the touring exhibit, which includes 141 masterpieces from the French museum's 5,000-piece collection. As the first major Picasso display to land in Toronto since 1964, visitors from across the city have been flocking to the exhibit before it makes its exit on Aug. 26.

This art form is known as Cubism, and you'll recognize it as you enter the room showcasing two abstracted masterpieces: Man with a Guitar and Man with a Mandolin. Cubism combines multiple perspectives of a subject onto one canvas, and at first, it's difficult to see how all of these lines can be connected to any real-life subject. Yet upon closer inspection, a mustache becomes visible and the curves of the instruments appear. Shiralee Hudson Hill, interpretative planner at the AGO, explains that these little clues are like "visual breadcrumbs", allowing us to grab a hold of the bigger picture, and in turn, the man behind it.
"Ultimately, in a way, every Picasso painting is about Picasso. It's about him, it's about his subjects, and it's the way he responded to them," says Hudson Hill. The exhibit shows the man himself in the photographs and self-portraits of the painter, but most importantly, it shows the genius mind people have been fascinated with since the turn of the 20th century.