Michael Snow: The Transformer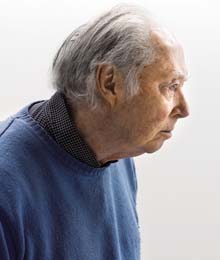 It's tough to keep up with Michael Snow. The 84-year-old juggernaut of art, who over the years has entranced the public imagination with such iconic works as the odyssey of grandiose geese in Flight Stop at the Eaton Centre, the sculptural gazers that toast the facade of the Rogers Centre in The Audience and the landmark film Wavelength, continues to provoke and stretch artistic paradigms in Canada and beyond. Unrelenting in his ability to transform and shape our visual perceptions of art, his current master strokes include "Objects of Vision," an exhibit at the Art Gallery of Ontario (AGO), In This Way, a video installation featured in the National Gallery of Canada's exhibition "Builders," and a glowing canvas display that will climb its way up the Trump Tower in Toronto, illuminating a spectrum of light and Snow's innovation and resilience. With works housed in prestigious galleries the world over, the thriving, decades-long career of Snow is a portrait of his permanence. The pluralist sees beyond single artistic realms, comfortably drifting through mediums, flowing through time with experiential art as new and relevant today as if unveiled decades ago.
What inspired you to create the 14 works that constitute "Objects of Vision," your exhibit on display at the AGO?
It's an assembling of works from various periods. I won the Gershon Iskowitz Prize, and one part of it is that you can have an exhibition at the AGO. And for many years I'd been thinking about attempting to bring together these separate sculptures that had been made at different times. The Gershon Iskowitz Prize was an opportunity to finally bring them all together and see what they kind of said to each other.


Explain the interactive approach you apply to your works.
A sculpture is the art of an object. One of the things that you consider is how the object that you're making is going to be seen, and by the term "objects of vision," I meant that the works, each of them in their own way, guide the spectator around them, or in looking at them, and sometimes in a fairly simple way. There's the piece called Transformer, which is a suspended tree actually sharpened at one end. It's a kind of horizontal thing, and it guides you in looking at it that way. The way sculpture is presented, whether it's suspended or whether it's on the floor is all part of what's interesting about it. For example, Abitibi was made with two sheets of varnished plywood bolted together and between the two of them a grey epoxy resin. When it congealed, it made the whole thing stand up vertically. So, the process that made the thing stand there, it's like a kind of a vein, but the veining is around the edges rather than on the surface. Part of the interest in the piece is how and what was done to make it stand up. It's much more interesting to see it rather than hear me talk about it: they all involve many different ways of perceiving, like the piece called Blind, which is four eight-foot-by-eight-foot rectangles of different weights of screening, or meshes, that when looked through — wherever you look, from this side or that side or through two or three of them — and if you move, you see it differently. It's very involved, and the very abilities of it are built-in. But it is part of how you, as a spectator, situate yourself.
Art is often a reflection or commentary of the times. What are some significant moments that have influenced or inspired your work?
It's really hard to sum that up because I've been doing what I do, whatever it is, for quite a long time, and I can't sort of isolate any kind of individual stimulus of any kind, other than getting started and wanting to try to make art.
As a builder, is it your intention to convey a moment, a cultural insight, a mood?
No, it's to make an experience for other people. It's not an experience for me — of course, it is on the way in making it, because I have to find out what it does — but really, it's to make a particular kind of experience that otherwise isn't available.
Do you find that your approach has changed over the years?
Well, I work in many mediums. Everything that I've done, I think, is sort of individual, and they came up out of different periods or different occasions. For example, I've done a lot of public sculpture, a lot of public art, like the flock of geese in the Eaton Centre. And there's going to be a new project, actually, called Lightline, which will be on the Trump Tower at Bay and Adelaide. It's still not completely ready, but we hope to have it started pretty soon. It's a work that uses a vine of light that goes 60 storeys up the corner of the building and is visible for miles and miles. This is going to be a new work, and it's completely different from anything I've done before.
How have you managed to adapt to cultural shifts and demonstrate them through art?
Well, I don't adapt to anything, I just keep on going, fortunately.
Perhaps artists have adapted to you?
Well, it depends. There's an exhibition that's on at Ryerson [University] right now — I have a completely new piece in that, too, which is a production work. And a lot of what I've done in the last 10 years has been gallery projection works, films and effect, which are shown in a gallery rather than in an auditorium. So, I don't know — I keep wandering away from your question, but it's just that — my stuff has had such a variety that it's kind of hard to pin down.
As a prominent artist for over 50 years, how have you remained relevant all along?
[Laughs]. That's kind of an impossible question. I — I just keep on doing what I do, and go from one thing to the next, and hope it's of interest.
Let's go back to the beginning. Did you always know what your calling was?
Well, things happened. When I was in high school, I started playing music, playing jazz. And then I continued to do that and sometimes for a while I made my living from it, and I continued to do it. I studied art at the Ontario College of Art and Design here, and then by — a kind of maybe too-long story to tell — but by a very happy accident I was asked to take a job learning how to do film animation, this was around 1954. And I hadn't had any involvement with film before that, but all of a sudden I was introduced to film, and that really changed everything that I did, because I basically became a filmmaker.
And you had no experience whatsoever?
No, I hadn't even really had any interest in it — it just turned up. How can I make this long story short? I had an exhibition of drawings, my first exhibition, and this man [George Dunning, who animated and directed the 1968 Beatles film Yellow Submarine] saw it, and phoned me up and said that he liked it, and that he wanted to meet me. When I met him, he said he liked it because he thought that whoever had done those drawings was somebody who was interested in the movies, and that he had a film company, and that he would like to offer me a job — which I was very desirous of at the time; I was trying to find my way. He thought I would be a good animator, and I did animation for a while, but it introduced to me the whole field of film, which became my main medium, I guess.
What's up next for you?
I'm having a meeting this afternoon about a great big show I'm having at the Philadelphia Museum [of Art], which is a very distinguished museum in modern art history. The curator's coming this afternoon, and this is one of several meetings in the last couple of years. The show will be in about a year from now, and it's going to be a retrospective of my work with photography.
You've contributed works of art that have dramatically affected the art scene. What has been your biggest life achievement yet?
I think my biggest achievement is that I have been an artist for many years, and apparently I'm continuing to do good work, and some people think it's great. It's really nice. Actually, it's more than nice.
Michael Snow's "Objects of Vision" exhibit at the AGO has been recently extended to March 17, 2013.
ago.net