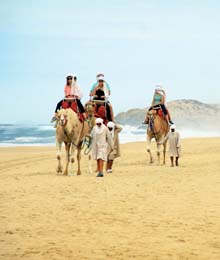 The morning sun begins its ascent, enticing a brilliant wash of new hues over the Pacific Ocean's rising tide. To my left, a series of graceful white caps release as they kiss the shoreline. To my right, the endless desert expanse exhales with sublimity. The setting is Los Cabos, Mexico, but this isn't any ordinary stroll along the beach. The once-in-a-lifetime view flashes into my frame from atop a camel's back as he steadily meanders across a refined blanket of sand that glistens like silk.
This moving Baja experience is just one pinnacle of a multitiered outback and camel safari excursion conceived by Cabo Adventures. After saying good-bye to my new four-legged friend, I arrive at a local ranch to taste and savour delicious regional cuisine. From handmade tortillas to spicy salsas and beans, this culinary stop casts a spell on my palate. True to the flavours of Mexico, the stirring jaunt concludes on a spirited note with a tequila-tasting session. When I arrive back at the Sheraton Hacienda Del Mar Golf & Spa Resort, I feel alive, accomplished and in awe of all I've seen.
My excitement is eclipsed by a state of unparalleled relaxation bestowed by the SOMMA WineSpa at the Fie-sta Americana Grand Golf Resort. The massage I receive after sipping the house special is unique to any other. The oils and aromatherapy being used, such as the ever-popular wine mud, have the essence and aroma of a Mediterranean vineyard. I'm informed that these wine-based products consisting of pips and pulp benefit the body through antioxidants that are absorbed directly through the skin. This is my first time being exposed to what's known as Vinotherapy, and I leave hoping it's not my last.
Read more
Growing up on a farm in Mildmay near Walkerton, Ont., animals provided food, but also friendship for Luke Albert and his family. With his chickens making good companions, a young Albert disliked the meat on his plate when he thought of his friends on the field. At 14, he decided to switch to vegetarianism, three years ago he became a vegan, and today he holds the position of festival and events coordinator for the Toronto Vegetarian Association.
While his small town didn't have all of the convenient vegetarian options that Toronto offered, he made due with leafy greens and whole grains. Unlike his younger self who often resorted to junk food for sustenance, Albert now looks at healthier alternatives to meat and dairy.
"Once upon a time, if you asked me if I would ever crave tofu I would've said 'no,'" says Albert, whose favourite restaurants now include Fresh and Vegetarian Haven in Toronto. "Things have come a long way and now you crave it like you would any other type of meat."
Desiring tofu is only one of the many changes Albert found in his switch to veganism. As a result of healthier eating and the low-density foods consumed on a vegan diet, Albert lost 80 pounds over the course of a few years and found that he was more energetic in his new lifestyle. "I ran a half marathon a couple of months ago," says Albert, defeating the myth that vegans aren't as athletic as their counterparts.
Justin Elchakieh is also working against this stereotype. A vegan for just over a year now, he has figured out how to stay healthy and fit, frequently working out to increase his strength. While he initially lost weight, doing research and speaking to other vegans in the community helped him discover what was missing from his diet so that he could live a balanced life. By getting a hold of as much information as possible, the transition was a healthy one and easier than expected."I suggest you do a lot of research on veganism," says Elchakieh. "It's very important that you do it properly."
-The Toronto Vegetarian Association reports that a vegetarian diet requires only a half acre of land — that's seven times less than a meat-based diet.

-According to the Food and Agriculture Organization of the United Nations, livestock production accounts for 30% of the entire land surface of the planet and 18% of climate change.

-A study published in the British Medical Journal discovered that vegetarians outlive meat eaters by six years.

– According to the Toronto Vegetarian Association website, a vegetarian/vegan diet lowers the risk of heart disease, many types of cancer, diabetes, high blood pressure, stroke, food poisoning and obesity

– The People for the Ethical Treatment of Animals (PETA) website says research shows cows to be socially complex animals that can hold grudges, develop friendships, form social hierarchies and choose leaders.
For more information on veganism or vegetarianism visit www.veg.ca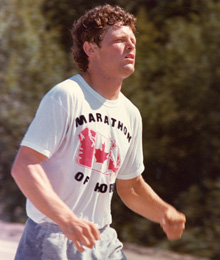 On June 28, 1981, Fred Fox and his family stood by Terry Fox's side as his battle with cancer came to a close. He had been forced to halt his Marathon of Hope when his cancer returned, but he remained hopeful of finishing his journey back home to British Columbia. On that tragic day in June he passed away, leaving a legacy that would inspire millions to carry on his journey to end cancer during the annual Terry Fox Run.
Not one for fame or glory, Terry's mission was never about himself. "He was running all those miles every day — almost an average of a marathon a day — not to be considered a hero or to be famous 32 years later," says his brother Fred. "He just wanted to be out there to do what he could to help other people who would be diagnosed with cancer."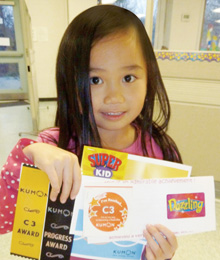 The home is a place where parent and child learn lessons of family, growth and education. When children are struggling at school or need to be challenged, they bring their concerns to mom and dad. Toru Kumon was a math teacher, but his station in life was being a father. It was in this role that he decided to create short daily assignments for the benefit of his son and gradually, for children around the world.
Since opening the first centre in his home in 1956, Kumon's method struck a global cord, reaching 47 countries and over four million students. On the company's global success, Lisa Kaul, president of Kumon Canada, says, "I think that there's a universality to parents' desires to have their children be successful. So I think it's really fundamental and important to know that the program was started by a father who was interested in having his own children be successful, and that's very much what drives the philosophy that we have towards learning."
Read more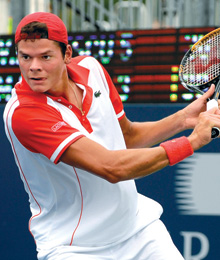 While most twenty-somethings remain uncertain about their plans for the future, the answer is clear for Milos Raonic, 21: "I don't want anything more than to succeed and make big things in tennis," he said in a recent Tennis Canada teleconference.
Ranked 25th in the world, the Montenegro-born Canadian is certainly on his way to doing so. With a killer serve (he hit nearly 250 kilometres per hour at the SAP Open in San Jose this past February), a towering 6-foot-5 advantage, and praise from legends Andre Agassi and John McEnroe, he's quickly shaping up as the real deal.
"It's a great source of pride for us to have one of the world's top tennis players come from our school and our city," says Adam Saperia, a fellow graduate of Thornhill Secondary School (TSS) and Read more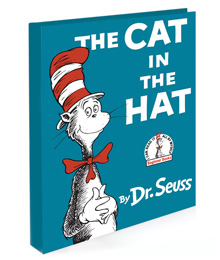 They're the stories that stay with you forever, the ones you've read to your children. They have the words we can't convey, the lessons taught better by a family of bears, and the adventures that can only exist in our imaginations. They are the foundations of our bookshelves, and the tales we'll never forget.
Stuart Little & Charlotte's Web – E.B. White
That philosophical little spider in Charlotte's Web has woven her way into the lives of children and adults with her wise words. From the cheerful "Salutations!" to musings on life and death, E.B. White wrote stories for children, but words that anyone can enjoy.
The Scoop Author E.B.White lived on a farm and kept animals. Some of them have made appearances in Stuart Little and Charlotte's Web.
www.harpercollinschildrens.com
Read more
With patio season in full bloom, we've found great spots for your best outdoor dining experience yet.
Just Steaks and Funnel Cakes
Whether you're craving salty or sweet, Just Steaks and Funnel Cakes delivers an interesting combination of dishes you'll be hard-pressed to find elsewhere. Try the delicious steak pancetta or customize a funnel cake with homemade frozen yogurt, fresh fruit and chocolate.
www.juststeaks.ca
85 at Hockley Valley Resort
On those too-hot summer days or cool, breezy nights, sink into a wicker seat with a blood orange mimosa or lychee martini on 85's sheltered patio.
www.hockley.com
Le Select Bistro
You'll never know where brunch can take you. Let Le Select Bistro transport you overseas with a patio reminiscent of Paris and savoury dishes like croque-monsieur and pain doré aux pommes.
www.leselect.com
The Boiler House
Enjoy resort-style dining and lounging within the city's limits at The Boiler House. Peruse the tapas menu or enjoy bottle service in the outdoor cabanas for a night of comfort and style.
www.boilerhouse.ca
Archeo
Archeo's flower-filled, cobblestone patio becomes the perfect dining spot when accompanied with a delicious phyllo wrapped brie appetizer and wild mushroom pizza drizzled with truffle oil.
www.archeo.ca
Pure Spirit's Oyster House
Miss the ocean? Forget flying and take a seat on the red brick patio at Pure Spirit's Oyster House. Enjoy the oyster bar and other coastal favourites.
www.purespirits.ca
The Doctor's House
Enjoy beautiful gardens with classic American cuisine on the patio at The Doctor's house. With a history rooted in the Confederation, this restaurant has the perfect touch of old-world charm.
www.thedoctorshouse.ca
Chartreuse
Feel right at home on the back porch of Chartreuse restaurant. Enjoy its country feel over unique favourites, such as smoked duck prosciutto and classic items like veal schnitzel with avocado.
www.chartreuserestaurant.com
Piacere
You'll have a difficult time choosing between gnocchi gorgonzola and zuppa di pesce, but either way, you'll enjoy the scene at this pretty patio.
www.piacere.ca

Ambiyan
Enjoy a warm summer evening with the tastes and aroma of Indian food at Ambiyan. Take a seat on the outdoor patio and start your evening off with samosas before indulging in fragrant butter chicken.
www.ambiyan.com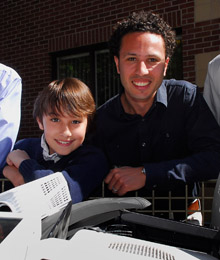 On June 7, 2012, students from the Froebel Education Centre in Mississauga were rewarded a $10,000 technology grant, courtesy of Samsung Hope for Children, for their substantial efforts in the Green Living Show's Passion for E-Recycling School Challenge. In response to this initiative, the 27 elementary-aged kids banded together, gathering an impressive 7,000 pounds of electronic waste (e-waste) in just 10 days. Averaging 261 pounds of e-waste each, more than any of the other participating GTA schools, these children exhibited great strength in small numbers. Read more
A Girl and Her Pig. By April Bloomfield
With her English upbringing and Italian cuisine touch, Bloomfield creates a book of delightfully uncomplicated recipes.
The Food of Spain. By Claudia Roden
Written by an award-winning author, this recipe book will indulge your senses in colourful and rich Spanish cuisine.
Cookouts Veggie Style. By Jolinda Hackett
Inspire your palate all summer long with fresh and original vegetarian dishes.
The Book of Burger. By Rachael Ray
Sink your teeth into a cookbook that contains more than 200 mouth-watering ways to enjoy a burger.
Read more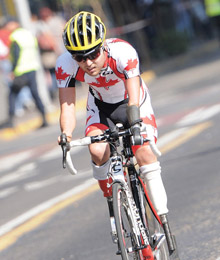 The buzzer sounds and for three and a half minutes Victoria Nolan pulls on her paddles with all her might, feeling the tension of the water through her arms. A year of intense training has led up to this crucial moment, and soon she'll have her victory.
"To come out and win gold, you realize that this is what it takes, and it was all worth it," she says of her and her team's triumph in the adaptive rowing event at the 2010 World Rowing Championships in New Zealand. She has maintained this philosophy of hard work while training for this year's adaptive rowing event at the London Paralympics. Dedication and perseverance are common words in Nolan's vocabulary. Diagnosed with an eye disease at 18, she discovered that she had been gradually losing her eyesight for years. With the birth of her two children accelerating her condition, Nolan was left with three per cent of her vision. As a result, she became Read more