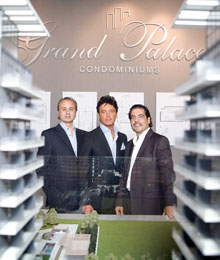 A new standard of grandeur is coming to Richmond Hill, and its name is Grand Palace Condominiums. While its lavish amenities and stunning edifice exudes opulence of the highest order, this palace isn't reserved for royalty. Its project leads, Stefano Guizzetti, Jack Scivoletto and Albert Gasparro, share a spectacular vision for this city on the rise, and it's one that doesn't cost a king's ransom.
With a name like Grand Palace, thoughts of unbridled luxury accessible only to the city's elite may parade by one's mind. But the Guizzetti Corporation team puts a halt to such processions. "It's luxurious, but it's affordable luxury," says Scivoletto, vice-president of Guizzetti Corporation. "We're trying to update the city's esthetic; to bring it up to the class it deserves." The plan is to reach beyond the now customary fare of condo living that's springing up across the GTA, to accent Richmond Hill's skyline with progressive style and to create a community that caters to and complements modern lifestyles, all starting from the low $300,000s.
Designed by renowned architectural firm Hariri Pontarini Architects, which has worked on other notable landmarks such as York University's Schulich School of Business, Grand Palace's three exquisite glass towers are fashioned with contemporary design unique within the city. Thanks to soaring nine-foot ceilings and stylish glass walls, which both come standard in each of the 524 units, living spaces are bathed in natural light. Sleek fixtures and energy-efficient appliances including Fisher & Paykel refrigerators and Whirlpool stainless-steel dishwashers, ovens, microwaves and full-sized stacked washers and dryers enhance the open-concept suites. Granite countertops and premium porcelain tiles are also standards, further adding to the prestige.

Read more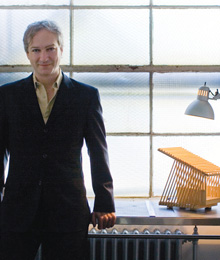 For Paul Raff, standing the test of time involves two sacred aspects. As an architect and artist, you can say he's quite familiar on how to feed longevity. "Good works of art and architecture are both of their time and timeless," he says. With an eponymous full-service studio based in Toronto, he's been awarded the public contract for Vaughan Metropolitan Centre Station (VMC), with a mission to bring light to the underground masterpiece set to run by 2015.
The VMC Station will redefine the lifestyle of Vaughan citizens, connecting the developing urban area with hot spots like York University and Union Station. Whether commuting to and from work, or going to Toronto's core to enjoy the bustling nightlife, the subway will make living in Vaughan more appealing.
When Raff first moved to Toronto in the late 1970s, he was taken Read more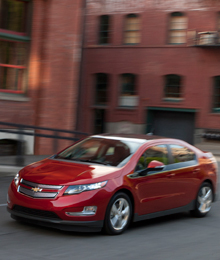 A shocking revelation in eco-friendly driving has made its way to the Great White North, and its name is the Chevrolet Volt. After the buzz about its marathon battery life, the 2011 Motor Trend Car of the Year is now modestly cruising Canadian streets, and for the environmentally conscious driver, this car is a hit.
When GM released the EV1, the first mass-produced electric vehicle (EV) of the modern era 15 years ago, it was received with much content, even though it was available only through lease. In a controversial fashion, however, GM killed off the EV1, citing unprofitability as its demise. Because public perception shifted towards eco-friendly transportation, major automotive manufacturers have changed course. Read more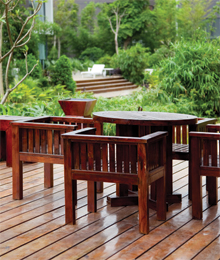 If there's one thing that can tarnish your backyard's good name, it's a poor-looking deck and fence. Over time, sun and moisture can damage exposed decks and fences, giving an undesirable weathered look. To ensure the longevity and durability of your wooden deck and fence, applying a good quality wood stain is a must. But before the brushing begins, there are a few important points to consider.
First and foremost, the wood must be prepared. If your deck and fence has seen a few winters and you're looking to recoat the lumber, cleaning is crucial. "It removes any mould, grime and dirt from the wood, and gives the finished product a more pristine look," says Claudio Grisolia, owner of Steeles Paint.
If this is the first season for your timber, you're in luck: no cleaning is required. However, if you just recently built Read more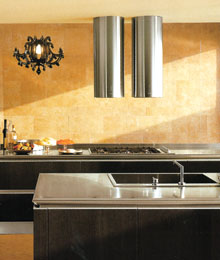 Are you looking to live in a fresh and clean space?
These stylish home décor products have come to save the day! With innovative tips and ideas for an eco-friendly atmosphere, you'll be well underway to living the good life – eco style. Read more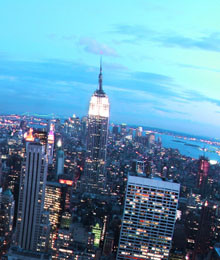 Beach Solar Laundromat
Recognized in April of 2004 as the Best Small Business in Canada for pollution prevention, the Beach Solar Laundromat uses eight solar thermal panels to heat water, reducing its natural gas consumption by 30 per cent. www.mondial-energy.com
Vert Catering
Focusing on natural and organic foods, Vert Catering is a responsible advocate of healthy green eating. With a passion for creating gourmet dishes using only the freshest locally grown foods, Vert is pleased to be a member of the Green Shift™ Environmental Stewardship program. www.vertcatering.com
Green Collection
Offering an extensive line of baby gifts, toys and Read more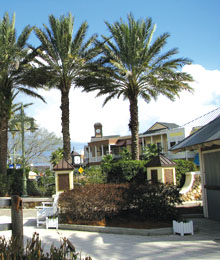 Whether you're talking about a convertible roadster or a diamond necklace, most quality manufacturers offer one rare product. Created to enjoy all that life has to offer, it's usually a special series that distinguishes itself, symbolizing a personal touch. But when it comes to Signature Developments – a builder and developer that takes pride in being unique, bold and eco-friendly – everything is one-of-a-kind.
With a rich history in the construction industry, Signature Developments is part of the Clearway Group of Companies. Founded just five years ago, the company uses a set of fingerprints as part of its branding. The green etched image conveys a hands-on, tailored product built with nature in mind. "We're innovative and different in the way we think," says Sebastian Mizzi, development manager and planner. "We bring a unique, customer-centric Read more