Let go with Moksha Yoga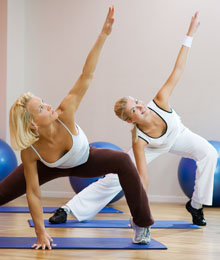 The Holidays can be a stressful time of year, for many reasons, so an invigorating but relaxing hot yoga class can be just the thing to smooth out some of that anxiety and tension. What many people don't realize is that hot yoga is also an excellent full-body workout that improves posture, tones muscles and builds immunity.
The recent popularity of yoga may make it seem like simply the latest in a long line of passing trends. However, this combination of discipline for the mind, body and spirit has been around for thousands of years. That is a lot longer than spinning classes or the South Beach Diet, so the ancient combination of meditation and physical exercise must be doing something right. Of the many varieties of yoga, the one that is heating up in Toronto is hot yoga.
Hot yoga is based on a defined series of postures or asanas, and breathing exercises or pranayamas, specifically chosen to bring health to all of the body's muscles and joints.
So where does the 'hot' come into it? The yoga studio is heated to approximately 40 C, which makes it quite easy to work up a good sweat. This is not sweating just for the sake of it – the heat makes you more flexible and is believed to rid the body of toxins. In addition, the breathing exercises are more than just a way to calm down and take a break from the strenuous exercise; they are an integral part of the yoga experience. With practice, they help stretch your lungs and expand your lung capacity.
Yoga has a history that, according to some sources, dates back as far as 3900 BC. In this grand scheme of things, hot yoga is only a recent development, but its huge worldwide following indicates that it has more going for it than most of the wacky fitness fads that sprout up from week to week.
Moksha Yoga is one company that has carved a niche for itself in the hot yoga market, with 35 locations around North America, including a dozen centres in and around Toronto. The Richmond Hill location offers over 40 sessions a week – morning, noon and night – with a range of classes that vary in their level of difficulty and focus on various aspects of the art. It holds both heated and non-heated classes, as well as inexpensive 'karma yoga' classes, where the proceeds go to local charities.