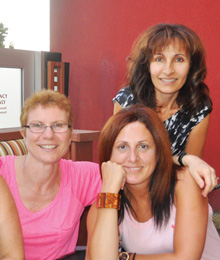 On Thursday, Aug. 23, 2012, WEGZ Stadium Bar in Vaughan rocked out in the colour pink during Rock 'N Boobs, a Plan B Promotions event. Guests enjoyed live rock music delicious food and pink cocktails while showing their support and raising funds for the Breast Cancer Society of Canada. Read more
Ontario's lieutenant-governor David Onley and members of Vita Community Living Services came together at The Columbus Centre on Feb. 28, 2012, to celebrate an innovative mode of transportation now available at the charitable organization. The MV-1 is a revolutionary new vehicle specifically designed for people with physical disabilities, providing wheelchair-users with a vehicular experience they can enter and manoeuvre into with ease. Funds for the wheelchair-accessible vehicle were raised during the charity's annual fundraising event Rally for Vita last fall.
Caritas, which offers a one-of-kind residential program with a multi-dimensional approach to recovery, hosts a number of fundraising events throughout the year. The Caritas community provides individuals the tools and skills needed to live as responsible, reliable, and productive members of society.  For event information, call 416-748-9988. Read more
The weather was perfect for a day on the greens at Glen Eagle Golf Course in Bolton. With the help of dedicated volunteers, the first-ever shotgun start tournament was hosted. With 110 players, 22 corporate hole sponsors, and over 30 raffle prizes, $15,000 was raised for the Down Syndrome Association of York Region. This brings the grand total of fundraising to an inspiring number of almost $90,000. Read more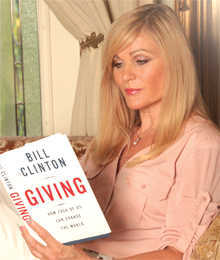 It was October 2008. Major financial institutions in the U.S. were falling at the pace of leaves and the media was saturated with reports of the tumultuous subprime mortgage crisis, market crashes and a looming global recession. Business owners across an array of industries were feeling their first beads of sweat. "Our economy was greatly affected," says Vivian Risi, owner of real estate firm Royal LePage – Your Community Realty.
Just before the news broke, Risi had taken on the role of Capital Campaign Chair of York Region's Yellow Brick House, pledging to raise funds for YBH's much-needed second shelter. "You can imagine the pressure I felt knowing that I had just committed to raising $4 million. I didn't want to let anyone down," she says.
In the midst of her concern, Risi was invited Read more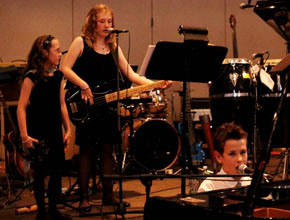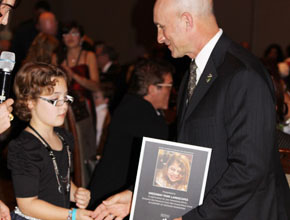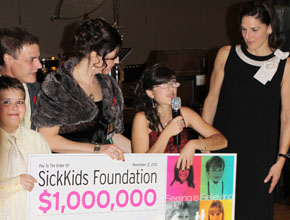 On Nov. 12, 2010, La Primavera Banquet Hall hosted the sixth annual Brandan's Eye Research Fund Gala, a delightfully sold-out affair. Live performances from incredibly talented performers and silent Read more
On September 11–12, lace up your running shoes and walk to support a fight for a cure that will end the cancer that many women suffer. Whether you're walking or opening your wallet, there are many ways you can get involved and participate. Select a fundraising goal that suits you and earn up to five $100 credits when recruiting friends and family to walk with you. To make donations or sponsor a walker or team visit www.endcancer.ca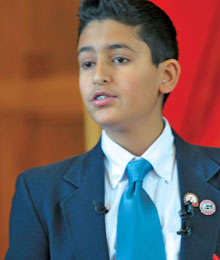 "I don't know if I consider myself mature for my age but I definitely consider myself an average 13-year-old." For someone who has shot the breeze with the likes of Nelson Mandela, Roméo Dallaire and Desmond Tutu, Bilaal Rajan is not your typical teenybopper; he's not even your run-of-the-mill human being. He was just four years old when tackling global poverty became his playground. When I was that age, the idea of selling Clementine oranges door-to-door to raise money for earthquake victims in Gujarat, India, would never have crossed my mind as I pushed Barbie and Ken in a luxurious convertible Corvette across a laminate floor. Your childhood mentality was probably the same.
Let's be completely honest with each other: making a difference in the world is as far from many of our Western minds as a remote ocean island on the most extreme point of the Earth. Read more