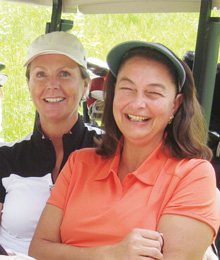 The 17th Annual Charity Golf Tournament of the Business and Professional Women's Club of Brampton was held at the Caledon Country Club this year, with over 100 participants raising funds for three charities: the Salvation Army's Honeychurch Family Life Resource Centre, Walk with Me, a human trafficking survivors program, and Buddys 'N Bows, which supports the Caring Companion Program at Brampton Civic Hospital. BPW Brampton raised over $6,000 this year for the worthy causes.
www.bpw-brampton.com Read more
The 16th annual women's charity golf tournament of the Business and Professional Women's Club of Brampton was once again a raving success. Over 100 golfers embarked on a nine-hole course at Caledon Country Club to raise over $5,000 for the Wellspring Chinguacousy Cancer Support Centre, the Salvation Army Honey Church Women's Shelter, and 'Walk with Me' – a human trafficking survivors program.
At Acura 2000, father-and-son duo Paul and Francesco Policaro place the vehicle service department on its priority list. Recently receiving the Acura Client Excellence Award for the 10th consecutive year, Acura 2000 maintains its position as the top volume dealer in Ontario, along with upholding the highest percentage of satisfied Read more
Welcome to the chic, sleek, all-glass showroom of Northwest Lexus, located in Brampton, Ont. Whether you're looking to invest in a gas-efficient, smooth-sailing sedan or an ultra-fast sport coupe convertible, the impeccable sales service at Northwest Lexus can assist and educate you in all areas of the vehicle and pricing. Just drop in and book your appointment to take a luxury vehicle for a spin, with Northwest Lexus's new special offer. www.northwest.lexus.ca
TOP LEFT: The futuristic ladies of Northwest Toronto strike a pose next to an outstanding vehicle of what's to come. TOP RIGHT: Guests and the employees of Northwest Lexus mingle about the posh dealership, ready to network amongst their car-friendly peers. ABOVE: The all-glass showroom of NorthWest Lexus, located at 2280 Queen St. E. in Brampton, Ont.
A staple of luxury, the smooth curves of a Lexus vehicle will transform your life the minute you slide into its high-quality interior engineered with excellence. While the powerful engine purrs seductively as you maneuver its crafted elegance to your destination, trust that Policaro Auto Group will heighten your senses when it comes to choosing the car of your reveries.
Basil, Tony and Paul Policaro are the unbeaten trio of brothers who have steered Policaro Auto Group into a successful five-car dealership business, which includes Northwest Lexus and Northwest Toyota, Acura 2000 and Acura Barrie and Family Honda. Read more