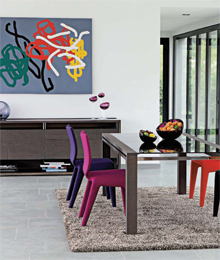 City Life's favourite design sources will fit seamlessly in your home.
1. Roche Bobois waves its contemporary wand in this dynamic dining room. Vibrant wool upholstered chairs from the Chabada collection will make any modern interior stand out. With a palette of 18 colours, there's no need to play musical chairs. www.roche-bobois.ca
2. Dazzling plum sequins bring a dash of drama to your home's décor. Accent a chair, sofa or bed with this fun and fearless Starlight Cushion from Bouclair Home. www.bouclair.com
3. Drop your passport and pick up a paint brush with CIL Paints' exciting new decorating concept. Destination painting lets you travel around the globe from the comfort of your abode. The Asian-inspired colours seen here are CIL's Oriental Poppy, Read more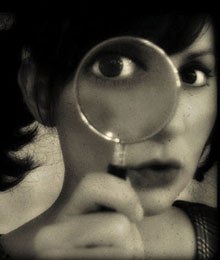 CountryWide Homes
Surrounded by the splendour of nature, the communities fostered by CountryWide Homes feature striking, classically styled homes in warm and welcoming neighbourhoods. Using the highest quality materials for kitchen counters and cabinets; the finest flooring, including stunning imported European tiles; cathedral skylights; and gorgeous master bathrooms incorporating separate shower stalls and oak or maple cabinetry, CountryWide provides gorgeous modern housing. Escape the rush of the hectic city in these quaint yet elegant neighbourhoods.
www.countrywidehomes.ca 905.907.1500
Nicholas Residences
Designed by award-winning Core Architects, the 29-storey Nicholas Residences bring the past and present together, Read more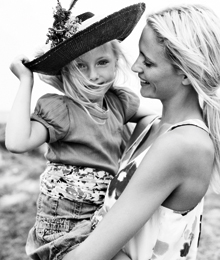 Shower your mom's special day with tokens of love.
1. Let this little light of yours shine bright with Pier 1 Import's Seashell Exhibit Lamp. www.pier1.com
2. Splash some colour into the room with Pier 1 Import's gorgeous lustre-finished, turquoise mermaid tail dish. This season's vintage femme collection bursts with wonderful gift ideas touched with vibrancy. Try pairing this adorable plateau bowl with a seashell set or collected corals from your tropical travels. www.pier1.com
3. Fly away with this adorable earthy leather strap bag. www.unique-vintage.com
4. Etsy sends hemp hugs and kisses her way. Read more