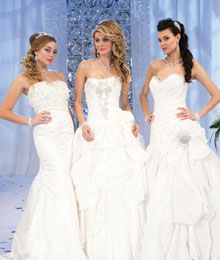 Brides-to-be gathered at the Metro Toronto Convention Centre on January 4, 5 and 6 at Canada's Bridal Show. From the latest in wedding wear to fresh décor themes and gush-worthy venues, exhibitors unveiled those perfect touches that make wedding days special. Celebrating all things bridal, the innovative show introduced a Bride Rewards Program, allowing ladies-in-love to receive points on purchases made at the exhibits. One lucky guest won a $5,000 wedding cake designed by special guest Cake Boss Buddy Valastro. Mark your calendars for the next Canada's Bridal Show this upcoming September.
www.canadasbridalshow.com
Spring is in the air, and Pantone's Fashion Colour Report has you in the know for all the season's hottest new shades. Hopscotch your way through a spectrum of lights and brights.
1. TAKES THE CAKE
Planning a spring wedding? Treat your guests to a lip-smacking creation from I Do! Wedding Cakes. Cake designer Olivia Nguyen knows how to craft a delicacy that's unique to you, making your fete a deliciously memorable one.
www.idoweddingcakes.ca

2. WORDS OF WISDOM
Start your day with a positive kick by cracking open this charming weekly calendar. Stay organized and inspired while planning your 2013 adventures.
www.chapters.indigo.ca
3. HEAD IN THE CLOUDS
Bright and cosy, the Rosette Euro Sham from Anthropologie will infuse your home with energy and bring some warmth to your down time.
www.anthropologie.com
4. BRING THE BLING
Australia's trendiest accessories boutique has pieced together this coral-toned beauty. Reminiscent of the beaches, cocktails and sunsets of summer, it's a piece that'll give you a tropical boost.
www.elkaccessories.com.au
Read more
1. LEAF IT TO ME Channel your inner mermaid goddess with this trio of Gold Leaf, Black Karat and Emerald baked eyeshadows.
www.lauramercier.com
2. BLUE CRUSH Ride the wave with a pop of turquoise. Sweep this kohl eyeliner along your waterline and pair with a soft matte grey eye.
www.lancome.ca
3. THE SKINNY ON CHUBBY Nude is all the rage this season, and that's where Curviest Caramel comes in. This new shade leaves a nude pink pout that stays put.
www.clinique.com
4. GET CHEEKY From dull to doll, the pigments of fuchsia and orange in Pommettes d'Amour warm your way to a springtime glow.
www.lancome.ca
Read more
When the women and children at Red Door Family Shelter in Toronto awoke last Christmas morning to find nearly 200 shoeboxes stuffed with thoughtful presents from local women, they were shocked. "It's a real gift to see that the community cares about them and cares about the crises they're going through," says Bernnitta Hawkins, Red Door's executive director. What stemmed from a generous gesture has become a national initiative to spread joy over the holiday season to those who need it most. "It's not a huge thing, but I do believe in it," says Caroline Mulroney Lapham, co-founder of The Shoebox Project.
After a conversation in mid-November 2011, Mulroney Lapham was inspired to help her sister-in-law Jessica Mulroney extend her mother's philanthropic mission to the streets of Toronto. "Her mother would put together shoeboxes filled with small items that women really enjoyed — little splurges — and she would ask her friends to do the same and deliver them all to a local shelter in Montreal. Jessica said she wanted to bring it here and I thought it's such a nice idea." So they banded together with fellow sisters-in-law, Vanessa and Katy Mulroney, and sent an email out to family and friends inviting them to participate. "We were worried for a while that we wouldn't even get 100 shoeboxes, and low and behold, we got almost 400 without any kind of marketing," says Mulroney Lapham, who was delighted to be able to share the shoeboxes with other local shelters across the city.
Read more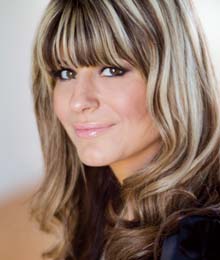 Tease the season for amped-up eyes and angelic complexions. Makeup artist Rita Stirpe shows us how.
1. Express your eyes with a seductive stare using Infallible Never Fail Eyeliner by L'Oréal
2. Kiss your cupid's bow with a stroke of MAC's Subculture lip liner
3. Blend Lise Watier's Couleur Folle Mineral Loose Powder Eyeshadow in Folie D'or for a star-studded wink
4. Create a sultry smokescreen with the Black Pearl Eye Palette from Bobbi Brown
Read more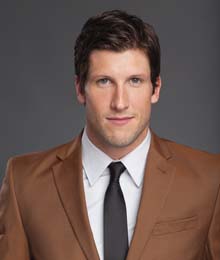 Local figures reveal their favourite New Year's Eve memories.
Brad Smith
Bachelor Canada, Citytv
''I started a tradition about five years ago where I would always go back home to my parent's place in Montreal for New Year's Eve and cook them dinner. So every year since then I've spent it subsequently with my brother, my sister and the kids, and we'd just have everybody over to celebrate. The most memorable one was 2009. I made six pounds of mussels in a spicy tomato marinara sauce, Swiss chard and collard greens with diced bacon, and goat cheese smashed sweet potatoes. We also had about seven bottles of wine. Whenever I go back to Montreal I love doing the same thing, which is just trying to get my entire family under one roof because we're just absolute crazies! This year I think Bianka and I are actually going to be in Mississauga for New Year's. We're going to my parent's from December 21st to the 25th and then we'll head to her parent's for Christmas night probably through to New Year's."
Read more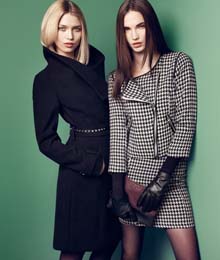 Whether you're standing under the mistletoe or the office glow, these outfits will ensure you're always in the spotlight. One of the perks to imperfect weather is the plush, patterned fashion that tends to trend this time of the year. Add a little spice to your wardrobe with these haute holiday pieces.
1. Zippers, studs and houndstooth coats make the coldest winter months worth it.
www.soakedinluxury.com
2. This beaded miniskirt gives Tinseltown new meaning. An unexpected biker jacket kicks this look into full gear.
www.zara.com
3. Shake up the classic holiday ensemble by sporting a sequined, embroidered cardigan over an oriental print chiffon blouse. Slip into seamed jeans and go get your jollies.
www.zara.com
Read more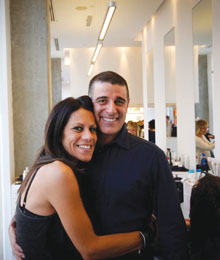 Solo Bace Salon, April Maloney Salon, Lift Salon and Bob and Paige Salon hosted this year's Annual Mane Event fundraiser. Proceeds from hair care services, a raffle, silent auction and direct donations raised $32,000 for The Teresa Group, a community-based charitable organization serving children and their families affected by HIV or AIDS. Steve Roy, founder of the Mane Event and stylist at Solo Bace Salon, explains that the well-being of innocent children fuels his passion for the cause. "It's for the kids," he says.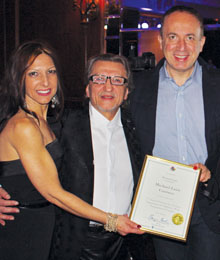 On Nov. 18, 2012, more than 400 people filled Montecassino Banquet and Event Venue in Woodbridge for the Michael Luisi Fashion for a Cause on the Runway. Haute couture, live music and refreshing fare made the joys of giving back even more enjoyable. Hosted by Michael Luisi Couture, the event raised funds and awareness for the Children's Wish Foundation of Cananda.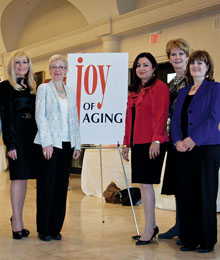 With over 350 attendees, The Joy of Aging 2012 raised funds for Mackenzie Health Foundation. Tina Tehranchian and Janine Purves were the co-chairs. Erin Davis was the master of ceremonies and Rona Maynard was the keynote speaker.