1. Blowfish
www.blowfishrestaurant.com | 416.860.0606
Try something new at Blowfish by stirring up the wasabi with exotic fresh sashimi and blowfish makimonos that you won't find anywhere else in the city. Visit this gorgeous restaurant and sake bar and treat your taste buds to a mouth-watering experience.
2. Lemongrass
www.lemongrass.ca | 905.270.8424
Thrilling fresh flavours never tasted so great. Blending zesty herbs with tangy sauces influenced by Vietnamese and Thai cuisine, Lemongrass has a distinctive culinary style. Enjoy a casual dining experience and try 35 gluten-free or vegetarian selections. Read more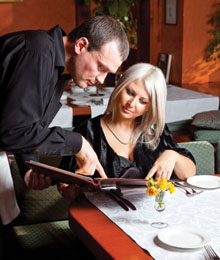 If you're looking to invigorate your taste buds with a rich and warm meal, turn to Vaughan to feed all your needs.
1. Di Manno Ristorante
www.dimannoristorante.com | 905.707.5888
Visit Di Manno for an unforgettable experience complete with a meal that melts in your mouth. The chic, romantic ambience accompanied by a welcoming staff has Vaughan residents raving. Whether it's a light lunch, a delicious dinner or a catered event, Di Manno Ristorante has it all.
2. Nawab Authentic Indian Cuisine
www.nawabindiancuisine.ca | 905.707.5002
Indulge in exotic spices at Nawab Authentic Indian Cuisine. Blending rich and silky curries that vary from mild to hot Read more