Growing up on a farm in Mildmay near Walkerton, Ont., animals provided food, but also friendship for Luke Albert and his family. With his chickens making good companions, a young Albert disliked the meat on his plate when he thought of his friends on the field. At 14, he decided to switch to vegetarianism, three years ago he became a vegan, and today he holds the position of festival and events coordinator for the Toronto Vegetarian Association.
While his small town didn't have all of the convenient vegetarian options that Toronto offered, he made due with leafy greens and whole grains. Unlike his younger self who often resorted to junk food for sustenance, Albert now looks at healthier alternatives to meat and dairy.
"Once upon a time, if you asked me if I would ever crave tofu I would've said 'no,'" says Albert, whose favourite restaurants now include Fresh and Vegetarian Haven in Toronto. "Things have come a long way and now you crave it like you would any other type of meat."
Desiring tofu is only one of the many changes Albert found in his switch to veganism. As a result of healthier eating and the low-density foods consumed on a vegan diet, Albert lost 80 pounds over the course of a few years and found that he was more energetic in his new lifestyle. "I ran a half marathon a couple of months ago," says Albert, defeating the myth that vegans aren't as athletic as their counterparts.
Justin Elchakieh is also working against this stereotype. A vegan for just over a year now, he has figured out how to stay healthy and fit, frequently working out to increase his strength. While he initially lost weight, doing research and speaking to other vegans in the community helped him discover what was missing from his diet so that he could live a balanced life. By getting a hold of as much information as possible, the transition was a healthy one and easier than expected."I suggest you do a lot of research on veganism," says Elchakieh. "It's very important that you do it properly."
-The Toronto Vegetarian Association reports that a vegetarian diet requires only a half acre of land — that's seven times less than a meat-based diet.

-According to the Food and Agriculture Organization of the United Nations, livestock production accounts for 30% of the entire land surface of the planet and 18% of climate change.

-A study published in the British Medical Journal discovered that vegetarians outlive meat eaters by six years.

– According to the Toronto Vegetarian Association website, a vegetarian/vegan diet lowers the risk of heart disease, many types of cancer, diabetes, high blood pressure, stroke, food poisoning and obesity

– The People for the Ethical Treatment of Animals (PETA) website says research shows cows to be socially complex animals that can hold grudges, develop friendships, form social hierarchies and choose leaders.
For more information on veganism or vegetarianism visit www.veg.ca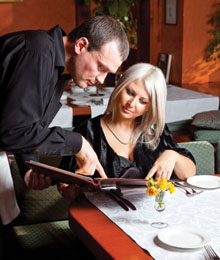 If you're looking to invigorate your taste buds with a rich and warm meal, turn to Vaughan to feed all your needs.
1. Di Manno Ristorante
www.dimannoristorante.com | 905.707.5888
Visit Di Manno for an unforgettable experience complete with a meal that melts in your mouth. The chic, romantic ambience accompanied by a welcoming staff has Vaughan residents raving. Whether it's a light lunch, a delicious dinner or a catered event, Di Manno Ristorante has it all.
2. Nawab Authentic Indian Cuisine
www.nawabindiancuisine.ca | 905.707.5002
Indulge in exotic spices at Nawab Authentic Indian Cuisine. Blending rich and silky curries that vary from mild to hot Read more