Let's do Lunch in Vaughan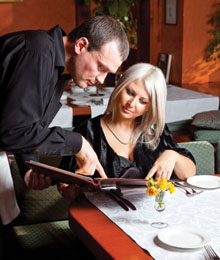 If you're looking to invigorate your taste buds with a rich and warm meal, turn to Vaughan to feed all your needs.
1. Di Manno Ristorante
www.dimannoristorante.com | 905.707.5888
Visit Di Manno for an unforgettable experience complete with a meal that melts in your mouth. The chic, romantic ambience accompanied by a welcoming staff has Vaughan residents raving. Whether it's a light lunch, a delicious dinner or a catered event, Di Manno Ristorante has it all.
2. Nawab Authentic Indian Cuisine
www.nawabindiancuisine.ca | 905.707.5002
Indulge in exotic spices at Nawab Authentic Indian Cuisine. Blending rich and silky curries that vary from mild to hot, Nawab's delicious menu offers a variety of gourmet vegetarian dishes, an assortment of marinated meats and loads of scrumptious seafood.
3. Il Cavallino Ristorante
www.ilcavallinoristorante.com | 905.850.3629
Recognized as one of the finest Italian restaurants in York Region, Il Cavallino's diverse wine selection and flavourful Italian fare has been pleasing its clientele since 1990. The rustic family owned restaurant has never lost sight of the importance of excellent service. Try the penne alla vodka and leave dreaming of Italy!
4. Makimono
www.makimono.ca | 905.856.0089
Dip into Vaughan's freshest oceanic delights. Makimono offers a wide variety of juicy fillets, exotic rolls and bento box specials on its menu. The mouth-watering dishes please those with discriminating taste buds.
5. Mideastro
www.mideastro.com | 905.889.0060
Experience the rich taste of two cultures with a visit to Mideastro. Head chef Angelo Racioppo and sous-chef Avi Yonapan work the kitchen to deliver the best in Mediterranean and Middle Eastern foods. Blending the techniques of both cultures, Mideastro brings forth the art of fusion in an alluring atmosphere.
6. Piacere Ristorante
www.piacere.ca | 905.417.6400
Sprinkling a piece of Italy in each and every dish, Piacere is committed to going above and beyond your tasty expectations. The culinary talent that resides behind the glass windows of Piacere serves each guest a special and unforgettable meal. The creamy gnocchi gorgonzola promises a flavourful experience.
7. Our Thai Restaurant & Café
www.ourthai.ca | 905.760.1288
Celebrating its second year of business this November, Our Thai Restaurant and Café combines a selected blend of herbs and spices to produce delicious and tangy fare that thrills the palate.
8. Vinsanto Ristorante
www.vinsanto.ca | 905.264.3991
Vinsanto's intricate Florentine design and open-concept kitchen create an inviting atmosphere replete with nostalgic Italian recipes and an impressive wine list. Meat lovers indulge in the fettini di vitello alla Marsala, veal scallopini sautéed in a red wine reduction.
9. Asia Feast
www.asiafeast.com | 905.762.8858
Feast on Asia's finest in a stylish dining environment. With specialties ranging from juicy dumplings to delicious Pad Thai, Asia Feast offers a modern Pan-Asian cuisine filled with over 100 enticing gourmet dishes.
10. Yang's Teppanyaki & Sushi
www.yangsushi.com | 905.761.0268
If you're looking for a skilled culinary performance on a heated iron griddle while indulging in yummy treats, visit Yang's Teppanyaki & Sushi. Its modern design and authentic Japanese cuisine translates to a healthy meal complete with entertainment.
11. Zafferano Ristorante
www.zafferano.ca | 905.264.2323
As one of Vaughan's best Italian restaurants, Zafferano is the perfect setting for an upscale yet cosy dining experience. The restaurant uses the freshest ingredients to artfully create dishes that are steeped in tradition. The entire family will revel in Zafferano's warm atmosphere.
12. ZiZi Trattoria
www.zizi.ca | 905.850.9875
Since 1966, ZiZi has been delighting guests. Enjoy fried calamari and pizza while resting upon chic black leather. Gleaming hardwood floors and flickering candles create a relaxed but sophisticated environment. The entrancing aroma escaping from ZiZi's kitchen has locals and tourists returning for more.