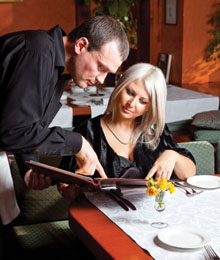 If you're looking to invigorate your taste buds with a rich and warm meal, turn to Vaughan to feed all your needs.
1. Di Manno Ristorante
www.dimannoristorante.com | 905.707.5888
Visit Di Manno for an unforgettable experience complete with a meal that melts in your mouth. The chic, romantic ambience accompanied by a welcoming staff has Vaughan residents raving. Whether it's a light lunch, a delicious dinner or a catered event, Di Manno Ristorante has it all.
2. Nawab Authentic Indian Cuisine
www.nawabindiancuisine.ca | 905.707.5002
Indulge in exotic spices at Nawab Authentic Indian Cuisine. Blending rich and silky curries that vary from mild to hot Read more