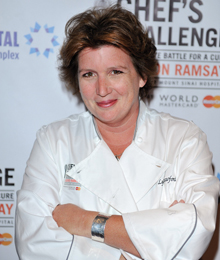 When six culinary masters enter a kitchen arena – cooking utensils at the ready – leading a team of amateurs into gruelling cooking combat, who will walk out the winner? Why, Mount Sinai Hospital, of course.
That's because these cuisine-creating warriors won't be taking up arms against each other, but instead, will be turning their blades towards cancer at the second Chef's Challenge. Six iconic Food Network celebrity chefs will gather at the Metro Toronto Convention Centre on Nov. 26, 2011, to whip up food and funds, all in support of breast and ovarian cancer research at Mount Sinai.
"I feel I have the responsibility to get involved in my community," says David Rocco, host of David Rocco's Dolce Vita, and one of six celebrity chefs competing in the Chef's Challenge. Read more
Tantalizing his viewers' palates with mouth-watering dishes made with authentic Italian ingredients, David Rocco and his newly extended family escape to the Tuscan countryside for the next season of David Rocco's Dolce Vita.
If David Rocco were a dish, he'd be pasta al forno, because, he tells me, he's crunchy on the outside, and soft on the inside. It's a good comparison, since oven-baked pasta is covered in a crust of gold, which symbolizes the level of success he has received over the years.
Dressed casually in designer jeans, a graphic tee, and military-green jacket, the host/producer of the Food Network's David Rocco's Dolce Vita oozes a boyish charm and electric energy. Read more