Chef's Challenge: Cooking for a Cure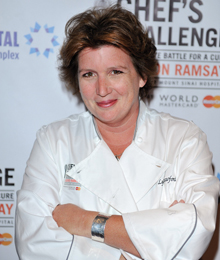 When six culinary masters enter a kitchen arena – cooking utensils at the ready – leading a team of amateurs into gruelling cooking combat, who will walk out the winner? Why, Mount Sinai Hospital, of course.
That's because these cuisine-creating warriors won't be taking up arms against each other, but instead, will be turning their blades towards cancer at the second Chef's Challenge. Six iconic Food Network celebrity chefs will gather at the Metro Toronto Convention Centre on Nov. 26, 2011, to whip up food and funds, all in support of breast and ovarian cancer research at Mount Sinai.
"I feel I have the responsibility to get involved in my community," says David Rocco, host of David Rocco's Dolce Vita, and one of six celebrity chefs competing in the Chef's Challenge. "I've been blessed to have the good fortune of doing what I do, and being able to inspire people, hopefully. And so when you get called for something like this, I think you can't help but want to get involved."
Joining Rocco is other Food Network stars Chuck Hughes, Lynn Crawford, Mark McEwan, Massimo Capra and Nadia Giosai. The event is hosted by Boy Meets Grill star and The Early Show (CBS)'s food correspondent, Bobby Flay.
With their eyes on the grill, their minds on the food, but their hearts on the cause, each chef is hungering for the opportunity to exercise their expertise in support of a worthy endeavour. "My customers support me year-in, year-out, and when they come to me and ask me to support them and their charity work I'm there for them," says McEwan, host of The Heat with Mark McEwan and Top Chef Canada's head judge.
Each civilian participant must raise a minimum of $2,500 to sit in attendance, and the 60 highest fund-raisers will earn the opportunity to demonstrate their abilities alongside these renowned chefs. Those top 60 are split up into teams of 10, and each celebrity chef guides one of those teams in a cook-off.
Last year's winner, Lynn Crawford, host of Pitchin' In, is hoping to repeat her triumphantly delicious performance, but is simply satisfied to be working with such compassionate characters that sincerely care about the cause. "Everyone who wants to participate in this event has huge hearts and tremendous enthusiasm to make a difference. I think all of the participants are winners," says the owner and executive chef of Ruby Watchco.
"I have a few aces up my sleeve," says Massimo Capra, host of Restaurant Makeover, when asked about his strategy this time around. A competitor through-and-through, the owner and executive chef at Mistura and Sopra Upper Lounge feels participants must acknowledge ingredients as tools – a means to an end – if they are to achieve victory. "Food does not have to be something that we revere," he says. "We have to actually understand it and use it to our advantage … we go too much for the fluff and not enough for the value and the quality," adds the chef, who likes to incorporate locally grown ingredients into his recipes.
For Bitchin' Kitchen's host, Nadia Giosia, patience and love is the key to success in the kitchen, a lesson she learned early in life from her gastronomic grandmother. "Watching her made cooking a mystery and challenge that was much more than learning to follow a recipe. It forced me to experiment with tastes and ingredients and learn them for myself," says the former Internet cooking star.
Chuck Hughes, host of Chuck's Day Off, aspires to share his passion for food with his team – an appetite that arose while congregating with his family around the dinner table. "There is something really primal about coming together and eating and that has always interested me. With the restaurants we really wanted to create this feeling –  basically we are looking for that first kiss – that feeling or experience but with food," says the tattooed executive chef at Garde-Manger.
Last year's event set the bar, raising $1.1 million; a number that will hopefully be devoured by this year's event. To see how you can donate, and possibly participate in this year's Chef's Challenge, visit www.chefschallengeforacure.com