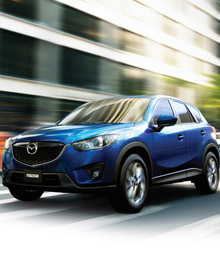 It seems like every automotive maker is racing towards the compact SUV segment as of late. It's become a crowded party, but arguably not the most exciting. Mazda is looking to change all that by tossing some "zoom zoom" into the mix with its brand new CX-5.
This compact SUV is Mazda's attempt at breathing life back into the tired Tribute, and the Japanese are giving it their all. It's the first Mazda fitted with the entire range of the automaker's new SkyActiv Technology, which includes new engine, transmission, body and chassis designs that are meant to increase fuel efficiency while strengthening safety and maintaining a dynamic, fun-to-drive feel.
Under the hood, the SkyActiv-G, 2-Litre engine powering the CX-5 delivers a modest 155-horsepower and 150 lb-ft of torque. But what really cranks heads is the engine's impressive 13:1 compression Read more
Practical transportation is essential for modern urbanites. Sure, that desire for a sexy sports car may hang like a painting in your mental rear-view mirror, but for those morning car pools, after-school soccer practices and weekly grocery runs, you'll need something more pragmatic. Depending on your taste and lifestyle, these two crossovers provide plenty of utility.
Read more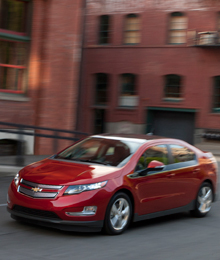 A shocking revelation in eco-friendly driving has made its way to the Great White North, and its name is the Chevrolet Volt. After the buzz about its marathon battery life, the 2011 Motor Trend Car of the Year is now modestly cruising Canadian streets, and for the environmentally conscious driver, this car is a hit.
When GM released the EV1, the first mass-produced electric vehicle (EV) of the modern era 15 years ago, it was received with much content, even though it was available only through lease. In a controversial fashion, however, GM killed off the EV1, citing unprofitability as its demise. Because public perception shifted towards eco-friendly transportation, major automotive manufacturers have changed course. Read more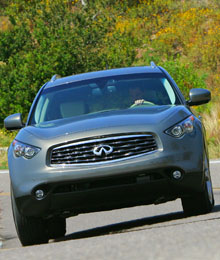 In a league of true contenders, performance matched with style of high artistic valour provides FX with a formula of necessity needed to compete. The "Performance Inspired" design of the 2010 Infiniti FX35 and FX50 is a package of fluid motion, class-leading safety and technological superiority that sets it apart from the competition.
"The combination of no-hesitation acceleration, radical design, and the handling and performance of a sports car has not been achieved by any of the 2010 FX's competitors," says Nader Maher, sales manager of new vehicles at a local Infiniti dealership.
Maher's confident Infiniti pride stems not from a sales perspective but from personal experience. He explains how he (a five-year owner of the FX brand) will be upgrading to the 2010 FX50 in the coming weeks. "You never feel insecure in an FX," he says. Read more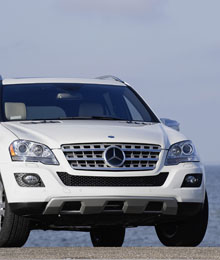 With the winter upon us, and our beloved sports cars sitting dormant in the garage, luxury SUVs take centre stage.  In the North American market, where SUVs have shown their popularity year after year, the competition is fierce.
Desired by many, and driven by a lucky few, Mercedes Benz is synonymous with luxurious driving. The 2010 ML350 BlueTEC is no different.
While some argue that it is a necessity of winter driving, four-wheel-drive often comes at a premium. It's often more expensive to fuel, more expensive to maintain, and more expensive to purchase.  And while the ML350 is by no means an inexpensive vehicle, with a base price tag of $58,900 buyers are getting a lot for their money. Read more