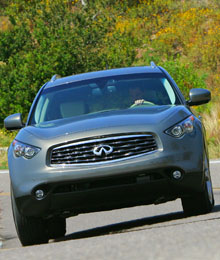 In a league of true contenders, performance matched with style of high artistic valour provides FX with a formula of necessity needed to compete. The "Performance Inspired" design of the 2010 Infiniti FX35 and FX50 is a package of fluid motion, class-leading safety and technological superiority that sets it apart from the competition.
"The combination of no-hesitation acceleration, radical design, and the handling and performance of a sports car has not been achieved by any of the 2010 FX's competitors," says Nader Maher, sales manager of new vehicles at a local Infiniti dealership.
Maher's confident Infiniti pride stems not from a sales perspective but from personal experience. He explains how he (a five-year owner of the FX brand) will be upgrading to the 2010 FX50 in the coming weeks. "You never feel insecure in an FX," he says. Read more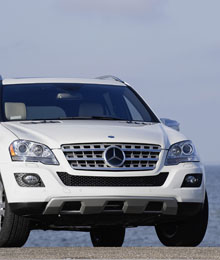 With the winter upon us, and our beloved sports cars sitting dormant in the garage, luxury SUVs take centre stage.  In the North American market, where SUVs have shown their popularity year after year, the competition is fierce.
Desired by many, and driven by a lucky few, Mercedes Benz is synonymous with luxurious driving. The 2010 ML350 BlueTEC is no different.
While some argue that it is a necessity of winter driving, four-wheel-drive often comes at a premium. It's often more expensive to fuel, more expensive to maintain, and more expensive to purchase.  And while the ML350 is by no means an inexpensive vehicle, with a base price tag of $58,900 buyers are getting a lot for their money. Read more