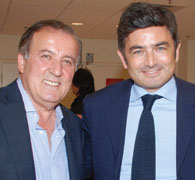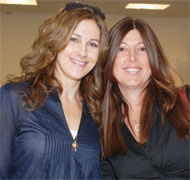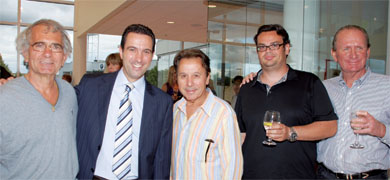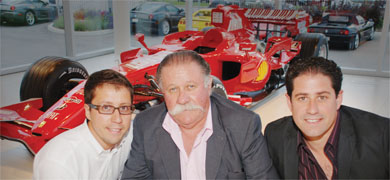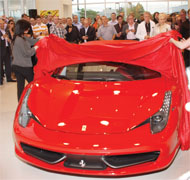 The Ferrari 458 Italia – an evolution in the automobile industry – was recognized and celebrated at Ferrari of Ontario in Vaughan on June 16, 2010. This latest 458 Italia model is a mid-sized luxury sports Read more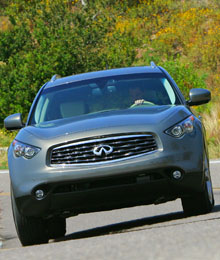 In a league of true contenders, performance matched with style of high artistic valour provides FX with a formula of necessity needed to compete. The "Performance Inspired" design of the 2010 Infiniti FX35 and FX50 is a package of fluid motion, class-leading safety and technological superiority that sets it apart from the competition.
"The combination of no-hesitation acceleration, radical design, and the handling and performance of a sports car has not been achieved by any of the 2010 FX's competitors," says Nader Maher, sales manager of new vehicles at a local Infiniti dealership.
Maher's confident Infiniti pride stems not from a sales perspective but from personal experience. He explains how he (a five-year owner of the FX brand) will be upgrading to the 2010 FX50 in the coming weeks. "You never feel insecure in an FX," he says. Read more
Dolce Publishing Inc. was among the chosen few given the opportunity to test drive the new Bugatti at The Westin Prince Toronto Hotel on Oct. 15th, 2009. A $2.2 million vehicle, which boasts Read more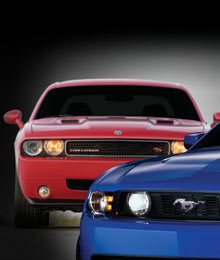 With the North American automobile industry suffering, Ford and Chrysler continue to focus on attracting a niche market that never seems to grow old. From sports car enthusiasts like Jay Leno to do-it-yourselfers like Home Improvement's Tim Taylor, the muscle car is an iconic status symbol that transcends generations and attracts envious glares from those left in its dust.
The Ford Mustang GT and the Dodge Challenger R/T are perhaps the most prominent domestic muscle cars on the market today. Fully equipped with styling that will make you shake in your racing boots, growling engine noises, and enough power to force your head to the headrest, the Challenger R/T and Mustang GT would be welcomed additions to any car aficionado's garage. Read more
Car aficionados always say that they want one car for the winter and one car for the summer. While at first glance this may sound simple enough, what they really mean is something a bit different altogether. What car guys really want is a capable and impressive daily-driver, and a head-turning, noise-making, tire-burning sports car that can be unleashed when the weather is nice and the streets are dry.
The Lexus GS450h and the Nissan 370Z fall nicely into these two categories.  The GS450 is a luxurious and smooth sedan, capable of meeting and surpassing all of your daily commuting needs, while the 370Z is a fast and furious sports coupe that calls out for attention.
Lexus GS450h
Long known as an industry leader when it comes to comfort and luxury, Lexus has again found a niche Read more