Introducing the 2010 FX35 and FX50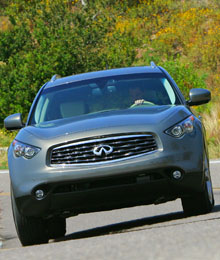 In a league of true contenders, performance matched with style of high artistic valour provides FX with a formula of necessity needed to compete. The "Performance Inspired" design of the 2010 Infiniti FX35 and FX50 is a package of fluid motion, class-leading safety and technological superiority that sets it apart from the competition.
"The combination of no-hesitation acceleration, radical design, and the handling and performance of a sports car has not been achieved by any of the 2010 FX's competitors," says Nader Maher, sales manager of new vehicles at a local Infiniti dealership.
Maher's confident Infiniti pride stems not from a sales perspective but from personal experience. He explains how he (a five-year owner of the FX brand) will be upgrading to the 2010 FX50 in the coming weeks. "You never feel insecure in an FX," he says.
The 2010 FX35 and the FX50 have better fuel economy and more advanced safety features than the BMW X6, Mercedes-Benz M and Lexus RX. It's as ruthless as BMW's approach to cornering, as unforgiving as anything with an AMG attached to it and as luxurious as any Lexus interior – the only difference is the money you'll save when you purchase the FX.
With such an emphasis on style, we change lanes, gain speed and connect to its impressive specifications. The Infiniti FX35 and FX50 are advertised as having "Power, Refinement, Utility, Sacrificing Nothing." For those who have made sacrifices in order to enjoy everything, the 390-horsepower, jaw-clenching adrenaline motivated by the V-8 engine in the FX50 has what you're looking for. "Infiniti considers itself part of the elite group of automobiles that you hear before you see," says Maher.
Infiniti's message is not so much about its capability on the track, but more so the attention to creative detail – both aesthetically and technologically. Performance can be the only leg to stand on for some manufacturers. At Infiniti it's all part of one fluid motion.
www.infiniti.ca
2010 InfinitiFX35 / FX50
Engine: 3.5-L V-6, DOHC, 24 valves / 5.0-L V-8, DOHC, 32 valves
Power: 303 @ 6,800 rpm / 390 @ 6,500 rpm
Torque: 262 @ 4,800 rpm / 369 @ 4,400 rpm
Transmission: 7-speed automatic
Safety: Front, side and curtain airbags
Brakes: ABS, Electronic Brake Force Distribution
Base Price: $52,300 / $64,050