Simon Helberg: Funny as Helberg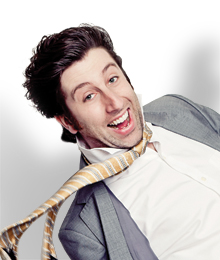 When told I would be interviewing Simon Helberg, best known for his role as Howard Wolowitz on the hit TV show The Big Bang Theory, I thought it was because our female writers were just too afraid of being seduced by an overly sexual, Jewish aerospace engineer. Not one to be afraid, I stepped up to the dish, only to be delighted by a witty conversation with a humble and humorous actor.
Q. Howard's the most sexually forward character on the show. What's the worst pickup line you've ever used on a girl?
Oh gosh. You know, I never was somebody for pickup lines. I think my flaw was being too honest. I didn't have the game that Howard has; Howard may have a terrible game, but he has a game. I would walk up to talk to somebody, a girl at a party, and then immediately tell them I loved them, and I think that we could be amazing together … Howard just naturally fumbles everything, I had to work hard to screw it up. So, I never did the pickup lines. I might have had more luck if I had, I don't know.
Q. Battlestar Galactica's Katee Sackhoff has showed up several times to give Howard relationship advice. Have you ever actually had a dream about her?
[Laughs] No, it was dreamlike meeting her, because it was just so surreal, getting into a bathtub with somebody you haven't even really said 'hello' to. At the end of it, she said the only thing she could do to keep from laughing was to squeeze her little toe, and I said, 'That wasn't your little toe.' It was definitely pretty bizarre and fun meeting her like that. She's great.
Q. You and your wife, Jocelyn Towne, have been working on a more dramatic Indie film, I Am I (iamithefilm.com). Have you been looking to try dramatic roles as opposed to comedies?
I'm always looking to do something that's different and that's appealing to me, I have no preference, really … It is a little more appealing at this point to do things that are different from Big Bang, and maybe less sort of broadly comedic, and I definitely totally love doing dramas … You find that a lot in theatre and plays that aren't just dramatic or just comedic, just well-written, human stories … It's just so much fun doing something when you're not wearing a turtleneck.