Dane Cook is staring at cover art for his Greatest Hits album. He's narrowed the title choices down from 15 to three and his deadline is today. The creative process has caused the sandy haired star comedian to take a scenic route down Memory Lane – long before his Forbes list fortune and arena-filling fame. He's spent the last few weeks listening to grassroots routines and discovering edits of CDs that he didn't even know existed. "It's interesting – watching and listening to the evolution of myself. It's very, very strange." He pauses. In that brief silence you can hear the deafening authenticity behind Cook's quiet confidence.
Ankle-deep in conversation, it becomes refreshingly apparent that one of Time magazine's 100 Most Influential People hasn't let sold-out stadiums and Hollywood movie roles alongside Kevin Costner, Kate Hudson and Steve Carell Read more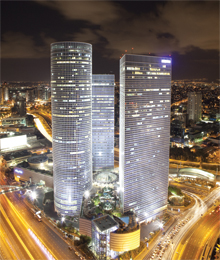 In middle school English class, we are taught that one of the three hallmarks of irony is the difference between appearance and reality. By watching the evening news, casual observers would see Israel only for its ongoing clash with the Palestinians. A closer look reveals all that Israel has to offer.
As the 12-hour flight from Toronto to Tel Aviv nears its end, I have a leg-stretching chit-chat with one of the flight attendants in the centre galley. After asking me where I'm from, he tells me how much he loves flying to Israel, because he takes pride in being able to bring tourists to such a special place. As the Airbus A330 barrels down the runway at Ben Gurion International Airport, the reality of Israel hits me and instantly, I understand that this is a different kind of destination. "It's our pleasure to welcome you to the land of milk and honey," an eclectic group of flight attendants excitedly Read more