Along with every fairytale wedding comes the perfect dress, delicate and regal, embossed with subtle beading and layers of flowing fabric.
At Bella Couture, wedding couture is of the essence, as rows of elegant gowns and enchanting accessories line the walls of this sassy shop, waiting to be selected. Inspired by Hollywood's latest fashions, Bella Couture offers the latest in bridal wear, with dresses for bridesmaids, flower girls, and mothers-of-the-bride – all custom-fit and altered to accentuate your unique silhouette.
Walk in and have a twirl in a gown by Dave & Johnny or slip into a slinky number from Frank Lyman Designs or Sherry Couture. Owners Naila Younan and Nasrin Indravis are always available to lend a helping hand or to offer their valuable style advice. You can also consult Bella Couture's on-site fashion designer, Read more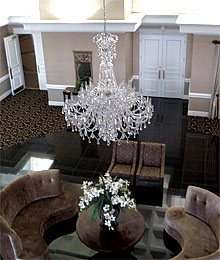 "The venue speaks for itself," says Mario DeCicco "It's absolutely stunning!"
Over 3,000 sq.ft. has been transformed into a sleek, magnificent room. The space boasts a separate entrance, custom interactive bar, a magnificent circular banquet focal point and a new Bridal Suite – all adorned with silver-threaded, woven drapery. Paired with The Royalton's trademark high ceilings, massive doors, great chandeliers and gleaming wood floors, this multi-functional space allows guests to have further choices when booking their celebrations.
Whether you envision a happening corporate launch venue or a contemporary milestone celebration, a posh cocktail party or a fabulous pre-function room, this spectacular Read more
Every bride wants to make a grand entrance, and what better way to do it than reaching your destination in a luxurious limousine, alongside a formally attired chauffer? Arrive in style with Rendevous Limousines. Read more
We've all heard the saying a picture is worth a thousand words. And on your wedding day, you want to make sure those words read like poetry. Capture each magical moment with Chris Dennison, owner and professional events photographer of Click-It Photography. Read more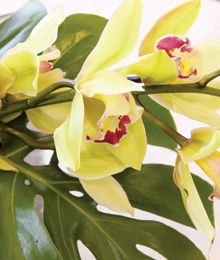 Whether it's a birthday celebration, a graduation ceremony or the wedding of your dreams, no special event can truly be complete without flowers.
"Depending on the occasion, flowers can evoke sentiments of congratulations, best wishes, encouragement, and of course,  love," says Ester Paris-Mauro of  Ital Florist. "They are a celebration of life. Even during the saddest moments, they symbolize hope, comfort and remembering." Read more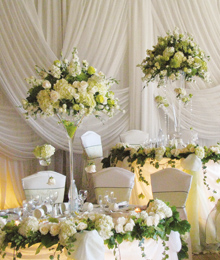 Like the fairy godmother you've always wished for, Maria Chiarlitti is transforming   ordinary events into extraordinary affairs. As the owner and founder of  Ti Amo Decorating, Chiarlitti spins dull banquet halls with enchanting fabled ambiences for a spectrum of special events. Founded 13 years ago, Ti Amo is cultivated on the basis of altering a conventional centre with the glowing essence of romance. Read more
With the wedding season upon us, there are many aspects to consider when planning your special day.
Once you have decided on a date, the next step is booking your wedding reception's setting. The professional event specialists at The Royalton Hospitality Inc. are able to realize every detail of your dream day. The Royalton team prides itself on excellence in service, unique menu combinations, exceptional architecture, and flexible event layouts. Begin with your initial consultation with either Mario DeCicco or Helmut Rast, the event specialists extraordinaire at The Royalton. Says Mario: "We consult with our international team of culinary experts, and decide how to wow our guests with an unforgettable celebration – just leave each detail in the hands of our knowledgeable and experienced staff at the Royalton." Read more
Nothing looks better on a man than a sophisticated, impeccably fitting suit. Housing a plethora of styles, from fashion-forward chic to traditional favourites, Mondo Uomo owner Salvatore Greco knows this better than anyone else. With nearly 25 years of first-hand experience in men's formal wear, this fashion connoisseur will style you famous for whatever occasion you're attending.
With its contemporary formalwear line boasting designer fashion from Ermenegildo Zegna, Dolce & Gabbana, Just Cavalli, Thierry Mugler, Kenneth Cole and Hugo Boss, finding the suit of your dreams might be a challenge. "Planning a wedding can be a very stressful time," acknowledges Greco. "Because we recognize that, we are here to help you each step of the way. A fashion consultant will come to your home the morning of your wedding day to ensure you are camera-ready," adds Greco. Read more