Ti Amo Decorating: Crafting Events of Enchantment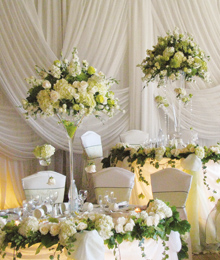 Like the fairy godmother you've always wished for, Maria Chiarlitti is transforming   ordinary events into extraordinary affairs. As the owner and founder of  Ti Amo Decorating, Chiarlitti spins dull banquet halls with enchanting fabled ambiences for a spectrum of special events. Founded 13 years ago, Ti Amo is cultivated on the basis of altering a conventional centre with the glowing essence of romance.
It's easy to underestimate the difference décor can bring into an event. As you step into Ti Amo's décor showroom, you are greeted by harmonized compositions, crafted with rich fabrics such as organza, luxurious chiffon and draping velvets. And since an abundance of options can become overwhelming, a consultation and thorough browse into Ti Amo's portfolio album will help you as you decide on the design that suits your special event.
www.tiamodecor.com
905.264.0771
410 Chrislea Road Unit 11, Vaughan, ON