The Royalton Hospitality Inc. Introduces a Brand New Event Space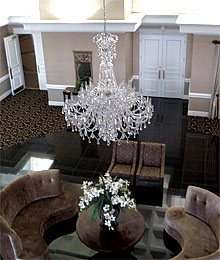 "The venue speaks for itself," says Mario DeCicco "It's absolutely stunning!"
Over 3,000 sq.ft. has been transformed into a sleek, magnificent room. The space boasts a separate entrance, custom interactive bar, a magnificent circular banquet focal point and a new Bridal Suite – all adorned with silver-threaded, woven drapery. Paired with The Royalton's trademark high ceilings, massive doors, great chandeliers and gleaming wood floors, this multi-functional space allows guests to have further choices when booking their celebrations.
Whether you envision a happening corporate launch venue or a contemporary milestone celebration, a posh cocktail party or a fabulous pre-function room, this spectacular venue can accommodate your every desire and wish. With fabulous furnishings, Chiavari chairs, varied table combinations, exquisite Royal Doulton china and lush linens, the possibilities are endless.
Designer Pat Bucilli Interiors and architect Sandro Zanini have created a truly awe-inspiring ambience at The Royalton, which captivates each guest that walks through its majestic doors.
"The quality of our food and service really sets us apart," says Mario DeCicco, event specialist at The Royalton. "We really go the extra mile to make every event special." Combining its trusted reputation with a brand new look, The Royalton offers its guests a seamlessly lavish experience to match its amazing architectural splendor and luxurious décor. For your next special occasion, contact event specialists Mario DeCicco or Helmut Rast. Their expertise, coupled with your own personal touches, creates your dream day. Able to accommodate anywhere from 50 to 950 guests, every celebration is memorable at The Royalton.
www.theroyalton.ca
T: 905.851.2325, 8201 Weston Road, Vaughan, Ont.